Do you have a wedding or big event coming up? Need some advice on how in the heck to get it all planned? I'm in the same boat. Lucky for me (and maybe for you), I met Chelsea Lund, the GoToGal.
"The first trait that people would refer to me as would be organized," Chelsea shared when we connected. After being the go-to for her friends' events for several years, she decided to make a business of it.
Do you ever meet someone and thank your stars, because you know you need them in your circle?
Before meeting Chelsea, I didn't know about Day of Coordinators. I also wasn't sure if any wedding planners served the Rochester, Minnesota area. Now I know.
Chris and My Wedding Planning So Far…
On October 12th, 2017, on our 2-year anniversary, Chris proposed. I said yes. October 13th, while brushing our teeth, we set the wedding date: October 12th, 2019. Both of us had the same date in mind.
I attended Unveiled on Sunday, October 22nd. Before Unveiled, I thought it might be fun to have our wedding and reception at some swanky venue in the Twin Cities. At Unveiled, I realized that there's no place like home for a wedding.
Saturday, November 4th, we locked in the venue: Four Daughters Winery. Venues can book out so fast, I knew we needed to get this done.
Since then, we've…well, we've talked about the fact that we should figure out the guest list. And, we have, um…well, we have not done one bit more than that.
Chelsea Lund, the GoToGal's Top 3
Hire a Day of Coordinator. Not a family member. Not somebody of your wedding party. They're there to have fun and celebrate with you, not to take down your decorations at the end of the night. As a Wedding and Event Planner and Day of Coordinator, Chelsea's goal is to make the host feel like a guest at their own event.
Make your budget work. Negotiate, cut corners where you can, and think outside the box. Venues and services can be negotiated. Faux-flower bouquets can be made to reduce cost. Make your own decorations. Find linens for less. I'm here to find you the best deal and the one that works within your budget. I work with numerous vendors for a reason. Some are on the higher end, some are in the lower. There's one for every budget. Some people spend thousands on invitations. "People look at it and put it in the garbage. You can find somebody at a university that does printing instead of some major printer." *
"Don't sweat the small things, because it's not worth it at the end of the day. Even if a few things did go wrong, you have all your family and friends together.
* I did some investigating on the invites, because I just couldn't believe they could cost thousands. The first one I found online cost $483 for 300 invites, envelopes NOT included. Stamps would be $294 today (who knows what they'll be in a year). That's $777 before envelopes. Save the Date cards were $435. I'm confident I could find more expensive (and less) if I spent more than five minutes looking. But WOW!
A Conversation with Chelsea Lund, the GoToGal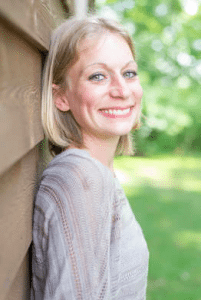 She offers full event planning, partial event planning, and day of coordinating for graduation parties, corporate events, weddings, holiday parties – any type of event. We talked a lot about wedding planning, because I have one to plan.
Q: What is a Day of Coordinator?
A: "It's somebody that's there taking care of the details in the background, so you're not running to the bathroom to see if the trash is overflowing. So, at the end of the party, you're not saying, 'Oh My Gosh, I didn't get to speak with this guest.'"
Q: What's your process like?
A: I provide a comprehensive checklist of pre-event to-do's. Brides feel very overwhelmed coming to meetings. They're really in a better spot than think. I help with color, decor, picking out certain decorations, matching things, whatever they need. I carry color swatches with me all the time. What is coral? What is ivory? Interpretation can be so different.
Chelsea has a preferred vendor list that she works with for everything from hair and makeup to printers. She can make recommendations. Or, if you know which vendors you want to work with, she can coordinate with them.
She helps her brides establish a timeline for the day of the wedding. It's a task that many a bride she's worked with has found overwhelming to do alone.
Q: What happens if a bride or hostess gets stuck on something and can't seem to move forward with the next step?
I'm asking for a friend, really, it's not like I'd struggle with that…
If you're really stuck on something, then I can help work through that situation.
Chelsea will say to the bride or hostess, "Why don't you work on something that's fun and let me work on that thing?"
She believes that brides and hostesses should get to have fun planning and hosting their event. "It's one of the best days of your life. You shouldn't be stressing out about for two years about it. It's not worth it."
I'm convinced.
The GoToGal could change the way you party
People don't want to host events anymore, because they're stuck in the kitchen. It takes the fun out of hosting. The biggest push right now is grad parties. Graduation parties are becoming mini weddings. Mothers of graduates are planning the party, cleaning the bathrooms, and putting out all the food. The husband's not watching a thing the wife is doing. The son and daughter is doing their thing with their friends. It just doesn't have to be that way. You need to mix and mingle and enjoy the event. Don't stress about it.
Do you want to know Chelsea Lund too? You can connect with her on her website, via email, like her on Facebook, and follower her on Instagram.