A Conversation with Amy Johnson, Jewelry Designer of Intertwined Designs by Amy
'Tis the season for jewelry commercials. Have you noticed? As my fiancee and I watched football this past Sunday curled up on our couch, one jewelry store after the other was featuring gifts that would make her smile. Always her. Never him. Poor guys.
The other day I chatted with Amy Johnson, enamel artist, jewelry designer, and owner of Intertwined Designs by Amy about how best to gift jewelry, wear jewelry, and shop handmade jewelry. Our conversation also covered creating art, life-balance, overcoming loss, starting a business, and more.
Jewelry is one of the most popular gifts to give during the holidays. "It's not always easy buying for somebody else, because you're not sure," said Amy. "If it speaks to you it's probably going to speak to somebody else."
Amy's Tips for Gifting Jewelry
Buy what they would wear, not what you want them to wear. Keep the person you are buying for in mind. Try not to stray too far out of their comfort zone. Need tips on how to buy for different face shapes and body types, click here.
Some people are allergic to certain metals. That's one of the reasons I make my earrings with sterling silver ear wires. I also feel that sterling silver is more higher end for handcrafted jewelry.
Questions to ask yourself when buying for someone else:

If you're buying someone a necklace, is the person's neck thin, average, or above average? If they have an average to thin neck, a 16 inch necklace would fall slightly above the clavicle. For the necklace to be at the same spot for someone with an above average neck, they would need an 18 inch chain.
Where do you see them wearing their necklaces? At the clavicle or lower? What type of shirt neckline do you see them wearing most often? If you're looking at earrings, consider neck length and face shape. Does this person wear longer, bolder earrings or smaller delicate pieces?
Bracelets have sizes, just like rings. Everyone is different. Every woman has a different size wrist and needs the bracelet sized accordingly. I recommend measuring a bracelet, watch or cuff that they wear. What style do they wear? Cuff, chain, hinge, or bangle? Bold or delicate?
Wearing Jewelry with Confidence
"What I like about jewelry is you don't have to have a complete wardrobe to wear it," said Amy. "You can change up your wardrobe with jewelry. Even if you just wear a black skirt and a black top you can wear a statement piece."
Q: Are there certain looks that don't work on certain types?
I believe anybody can wear statement necklace: tall, short, thin, heavy. I do believe petite people feel overwhelmed with that. They still can.
Q: Any tips on how to shop for jewelry?
Find the piece that speaks to you. What I love about jewelry is it's so three dimensional. I also love handmade jewelry before anything that's mass produced. I know someone put some time into that piece, someone has a part of their heart into that piece. You're carrying that artist's heart in the jewelry that you own.
Q: What tips do you have for different body and face types when it comes to wearing jewelry?
Necklaces: A longer chain can make a person appear taller. A larger neck piece can make a neck look shorter. Tall people can wear most anything They can wear large pieces and pull them off really well.
Earrings: If you have a shorter neck, a shorter earring might emphasize the shorter neck. Do the opposite to create a longer profile. For women with longer necks, there are fewer limitations.
If you have a round face, you may look better with longer thinner profile earrings or teardrops. Long, thin faces can handle a little more volume.
Amy's Tips for Buying Handmade Jewelry
Handmade pieces are of the highest quality. No two pieces are alike. You have a special piece of the artist forever in your jewelry collection, a part of the story the artist is telling. Each artist has a unique reason for designing jewelry.
When you buy handmade, it's going to cost more. You're getting a piece of that artist. They're not mass-produced.
How does it feel? Does it feel rough on the edges? Did the person sand it? Put it over a piece of fabric? Is there anything that's going to snag your clothes? Some artists do not look at those finishing details.
Cool Things to Know about Intertwined Designs by Amy
Most of Amy's enamel pieces start with copper bought at Menards, the same kind used in roofing. "You wouldn't think it, because it doesn't look like it all."
Her work requires pure copper. She showed me the penny bracelet on her wrist. "I look for copper pennies from 1981 and earlier. Today's pennies only have 3% copper in them. Pennies of today would just melt."
All of her enamel pieces require her to use a kiln or a torch. "What I've found is that there's some things that I can do with a kiln not a torch and some things I can do with a torch not a kiln."
She uses a MAPP gas torch, the same kind that plumbers use. "I get my MAPP Gas from Menards or Home Depot. The torch head is a hot head. It's a glassmaker's torch head.In order to get enamel to melt it must heat to 1450 degrees."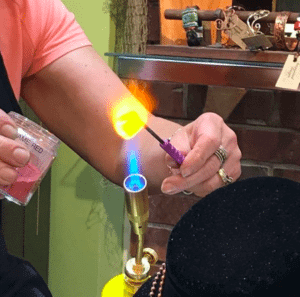 Amy works with Vitreous Enamel, it's glass bonded by fusion to a metal surface. Enamel is powdered glass. "It's finer than sugar, but heavier than flour."
The process of enameling is more than sifting some glass onto copper. A partial list of enamels techniques include: sgraffito, stencils, basse taille, cloisonné, champleve. Types of enamels include liquid and dry form as well as crackle, watercolor and acrylic enamels. "I will never in my lifetime learn everything about enamel. There's so many different things to create with it."
"My pieces have been soldered, sawed, fried, and shaped without manufactured machinery," said Amy. She also patinas her jewelry, darkening and sanding it, so that it pops. "I like to get down and dirty with my stuff."
"My time and love I put into each piece becomes an intimate relationship, an energy," said Amy. "There's such an emotional attachment to those pieces. There's so much that when you make something you've got your whole heart and soul into that piece. I have taken that copper roofing and I have formed it, I've cut, pounded, and fired the copper to make it looks like what it is today."
In addition to her enamel work, Amy creates spinner rings. "People call them worry rings or anxiety rings, fidget rings." She creates them using brass or 14k gold fill spinners on sterling silver.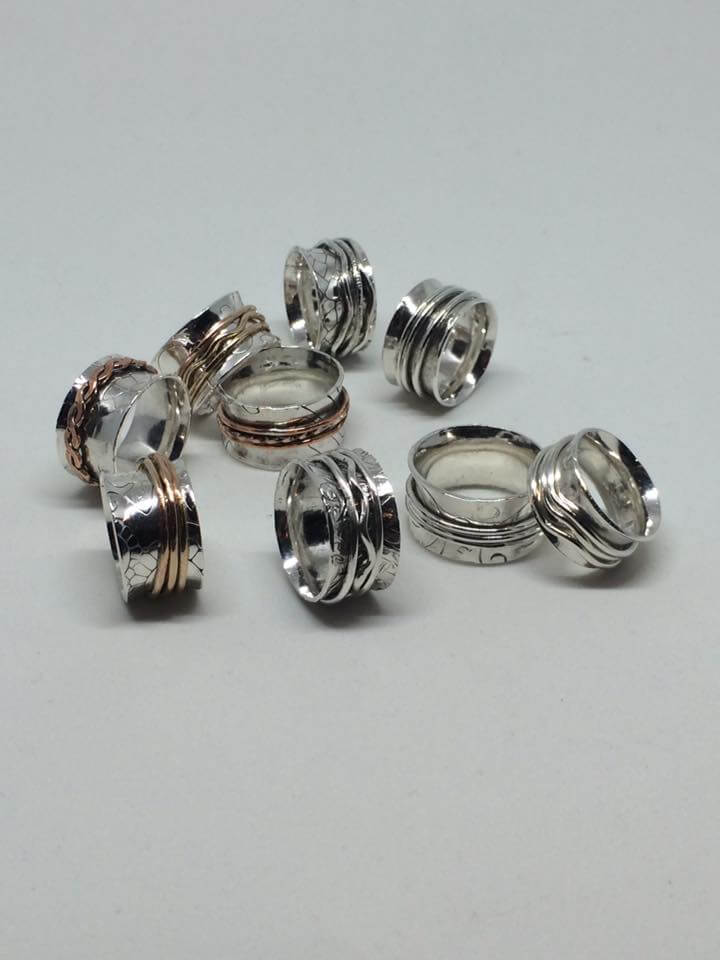 Q: What keeps you going?
Jewelry entertains me. It makes me feel so damn good. Anything with art. It's such a great therapy.
One thing people will tell you about me is my jewelry keeps changing, keeps progressing. I have some new ideas for next year. This past year I got into teaching classes. I've been teaching some enamel classes at Dwell.
Q: Have any creative business advice?
Go in it with all your heart, but don't get discouraged, because you have to keep searching and finding new avenues in your business. Not everything I make flies out the door. People will start to notice you. It takes time. Sometimes it takes a long time. Rochester is a tough market.
Q: Is it hard approaching stores and asking them to carry your jewelry?
My very first store was Revelation. When she moved to Decorah, that's when I went to Dwell. I went in there one day. This is what I do. I was only doing metals. Sure, bring it in. It went well. Then that spring I took my first enamel class from a national instructor. I've only been doing enamel work for about 18 months. People see something they haven't seen before and people like it. I make myself kind of the unexpected. All I have to do is make it [the jewelry]. They [the retailers] present it. They're my right hand.
The Hardy Geranium, The Black Crow, and Crossings at Carnegie in Zumbrota all approached Amy and asked to carry her work.
The one craft show you can find Amy and her Intertwined Designs at is the Mayo Clinic Employee Craft Show. It's massive.
Q: How do you balance it all?
Amy does have a full-time job in addition to her jewelry business.
That's the whole key. Balance is huge. I didn't do a very good job in 2017 balancing. My life became my job and my enamel. I used to workout every day. I've been away from it for a year. My goal in 2018 is to figure that out. After Christmas things are going to slow down for me. Work, do the gym, do my jewelry. Keep working on jewelry when it is slow. Don't stop, so when it gets busy I have stuff made.
Q: Advice on how to handle loss?
Amy shared with me that she lost her husband to suicide when she was 36.
You make what you have with what you got. You wake up every day. When you go through something like that, in the beginning, sometimes you're just going through the motions. When you go to bed at night, think about what good thing happened that day. My life has been blessed even with the challenges I have been through. I have been blessed with two beautiful adult children. You make with what you got. You find blessings.
Where can you buy Amy's Intertwined Designs Jewelry?
Dwell Local in Rochester. Revelations / Les Wigs Renee in Decorah Iowa. The Black Crow in Lanesboro. Crossings at Carnegie in Zumbrota. The Hardy Geranium in Austin, Minnesota.
What to expect from Amy in the coming year:
Teaching more classes at Dwell Local. New techniques including photo transfers on enamel jewelry. New styles in spinner and adjustable rings.