Sauna to the Rescue
Winter was harsh the year I sold cars. It was 2014 and there was a polar vortex going on. Most Monday mornings were spent sweeping snow off off vehicles, moving them, and plowing the lot. Days spent much above zero seemed few. There were snow and ice storms more than a week into May.
Perhaps it isn't surprising that I became hooked on using the sauna at the Rochester Athletic Club (RAC). The RAC is a five minute drive from the dealership. On harsh days when no one seemed to be car shopping, I'd take a break and drive there. Then, I'd check in, go downstairs to the women's locker room, and go into the sauna without taking my winter jacket off. I was so cold. Once the chill left my bones, I'd leave the sauna and go back to work.
Now, I sauna for 15 minutes most days, even in August. The only thing I don't like about saunas is that they're hard on my blow combed hair. So, when I was at the Global Entrepreneurship Week Women's Entrepreneurial Happy Hour co-hosted by Rochester Home Infusion and Rochester Rising and the subject of sauna hats came up, my attention was grabbed.
Sauna Hats
Julie Rice, co-owner of Exactly Done and Joselyn Raymundo, owner of Rochester Home Infusion were the ones talking. From them I learned that a sauna hat protects the hair in a sauna. The longer I live and the more I make conversation with new people, the more I learn. I love it! The same goes for trying new things (Except skydiving. If you love skydiving or think it's thrilling – good for you, not for me).
I shared my car-selling sauna story. Then Julie told me that she and her husband own a sauna. They keep it in their neighbor's backyard, because their's is too small. Their neighbor and good friend had a garden that she and her husband had become too busy with children and work to tend. A sauna in that spot that they could all use seemed a great solution.
Julie invited me over to sauna with her. "The whole sauna process takes about 3 hours. If you're game…" I jumped at the chance. Hours dedicated to being in the sauna? Yes!
She sent me a list of sauna do's and dont's:
Eat a lighter meal about 2 hours ahead of time. You don't want your blood circulation in the sauna to compete with digesting your food, but you don't want to take sauna hungry.
Drink a bunch of water about 1 hour ahead of time.  Being hydrated is super important.
Wear a swim suit that doesn't have metal clasps.  If you don't have one, swim bottoms with a sports bra will do.
Probably no jewelry. It'll just heat up and burn your skin.
A robe is nice for keeping warm during the cool down sessions.
Bring flip flops so you're not walking around barefoot on the cold ground.
I don't wear my contact lenses in the sauna, so if you were lenses, you may just want to wear glasses.
Julie also checked with me to make sure there weren't any medical issues to worry about.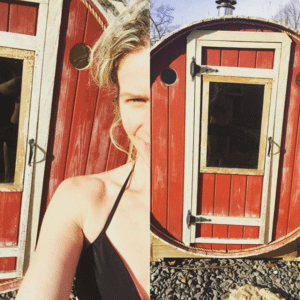 I did my first Finnish Sauna experience mid-morning on Monday, November 27th. It was 60 degrees (balmy). When I told my friend Amy about my sauna plans for the day as we had coffee and worked on our blogs, she said, "There isn't any snow to cool down in." True. I wasn't sure how Julie and I would be cooling down. I wasn't too worried about it, because I'm a heat craver.
When I arrived at the sauna, I learned that outside the sauna, there is a shower that pours out icy cold water and a metal tub filled with cold water.
First, we went in the sauna. Julie explained that in the sauna it's important to push yourself like you do when exercising without overdoing it. The goal being to warm up the core. We chatted about good neighbors, our Thanksgivings, and work. When we reached our limit, we went outside and showered under the icy cold water. We sat in zero gravity chairs in the backyard until we were shaking with cold. Then we went back into the cozy sauna.
The second time I felt myself heating up faster. We put our feet on the ceiling of the sauna. Julie told me what she and her husband had learned about Finnish saunas. This time when we reached our limit, we showered, and then we each took turns sitting down in the tub of icy cold water and dunking our heads beneath it. As I sat in the zero gravity chair, I didn't talk at all this time. I listened to the birds, felt a mix of warmth from the sun, and cool from the crisp wind. It was the end of November in Minnesota.
We went back in the sauna after goose bumps were covering my skin and repeated the process. This time we used a dry oak whisk (vhita) and gently whipped our skin with them. Julie explained that in Finland they use birch, but that it's just because a lot of birch grows there. The vhita exfoliates the skin and promotes circulation.
"There are more saunas than cars in Finland," Julie said as we relaxed in the sauna and chatted about how important sauna is to the Finnish and its many health benefits.
Outside, cooling down on the zero gravity chairs, Julie asked, "Can you feel your heartbeat?"
"I was just going to tell you that I can feel my heart beating everywhere," I said.
She smiled and nodded in agreement.
During the rest of the day, life felt a bit slower and more relaxed. There was this sense of peace and appreciation for everything around me. My conclusion: The Finnish Sauna experience is good and worth the time invested. And, I kind of want to go to Finland.
For more information on saunas, I recommend checking out Sauna Digest.