I am not in charge of my hairstyle. Michelle is. Why? She's brilliant when it comes to every element of caring for and styling my hair. I'm not.
Did you ever see The Princess Diaries? I rented it when my daughter was a tween. Remember the hair makeover scene of Mia (the Princess)? Y'know when she went from having uncontrollable curls to sleek sophistication?
I wasn't even convinced that it could be done on my hair until 2011.
My hairstyle pre-Michelle: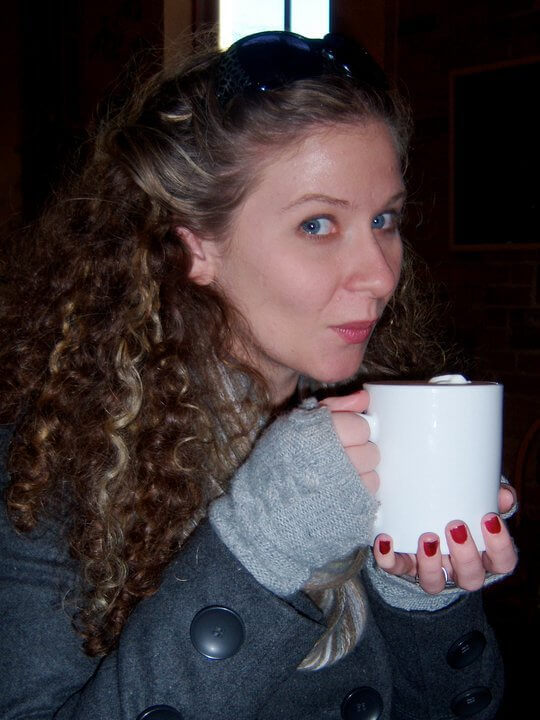 All-natural, uncontrollable curls. Back then, I didn't even know what a round brush was for.
My hairstyle with Michelle:
When it comes to my hair, I trust Michelle's skills and suggestions. That's why I asked Michelle if she'd be willing to give 40 Fit N' Stylish readers tips on caring for and styling spring and summer hair. She said yes, so I brought my questions and laptop with to my blowout appointment with her last week.
Michelle Hilsman's Top 8 Spring Hairstyling Tips:
When seasons change we're tempted to change everything about our hair. Save major changes for fall. Do subtle changes in the spring. Why? Humidity makes it hard to style new hair.
Never underestimate the power of a blowout.
Thinking of going shorter than your current style? Humidity makes hair big and the shorter your hair is the harder it is to pull it back into a ponytail, or bun.
Go lighter on the color. If you're blond you can go more blond. Avoid night and day changes, because you'll regret it.
Perms aren't a thing. No. Who started this? Perms are not a miracle.
Straight, sleek hair is a no-go in the summertime just because of the humidity. Put the straightener away.
Accept your natural wave and add to it.
Avoid getting bangs.
Michelle's Top 11 Do's and Don'ts for Keeping Hair Healthy in the Spring:
Don't use too much shampoo. Whatever you're doing for shampoo, cut it in half. Try shampooing every other time.
Do use more conditioner.
Do put conditioner/leave-in conditioner in before you jump into the pool. Bring a bottle of conditioner with you to the pool. Then, put it in before getting in the water.
Do use Argan oil.
Do spend the money on good, quality pony tail holders. What makes a pony tail holder good? Extra cloth. Or, use the coil kind. Or, use scrunchies. They're in again! Then, resist making your pony tail too tight. Why is this so important? Hair breakage.
Don't go to bed with a ponytail. It can break your hair and do a lot of damage, especially if it's wet. A braid is a better option. Or, if you must do a ponytail make it a low and loose one. Going to bed with a ponytail con break your hair especially if it's wet. A braid is a better option, or a low and loose pony.
Do weekly hair treatments. Michelle's favorite is the Joico K-Pac. You can keep it in for a while when you're at home.
Don't put off your haircut all summer.
Do buy product from a beauty consultant. When she's shopping for hair products, Michelle looks for sulfate-free, paraben-free products that are at least 90% naturally derived.
Do own a round brush. Everybody should own a round brush. If you don't have one, try a few less expensive brushes before investing in a pricier version. When you look at the sizes, whichever you're thinking of getting, go a size bigger. Smaller ones are more likely to get tangled. Leave those to the pros.
Do wear your hair natural when you can. Know when you have stuff going on and give yourself the extra time you'll need to blow your hair out. Or, if you're like me, schedule the hair appointment!
Questions to ask your hairstylist:
Ask what s/he recommends for a hair routine. Following a good one will improve the quality of your hair.
Ask if the hair length you want is appropriate for you. Just because it looks amazing on your friend, that one Instagrammer, a movie star, etc. doesn't mean it'll look good on your head.
Ask her/him to show you a doable way to style your hair that you can do on a regular basis and get good at.
#TrendingHairstyles for 2019
When it comes to color, balayage is still big. It changes so mildly over time and can grow out with less maintenance.
Another popular trend in coloring hair is using toners to get a nice cool look that softens.
Shoulder length hair.
Layers with more softness and length.
When it comes to updos, subtle, low, classic, and simple is where it's at. Effortless beauty.
Headbands are in the summer and are a nice way to get an extra day or two out of your style. Accessories do count. Michelle recommends a cloth headband. Perhaps something a little Bohemian that pairs well with a white t-shirt and heels.
Michelle's favorite way to style her hair:
Variety is the spice of life. Sometimes she goes natural. Sometimes she blows it out. She wears headbands, hats, and does updos on some days. Or, adds a vintage eagle frame on the back of her head…just kidding.
If you want to put Michelle in charge of your hairstyle and you live in, or close to Rochester, Minnesota you can reach out to her on Facebook, or text/call her at (507) 884-1655. She is on vacation through May 6th, 2019.
Want to connect with me? You can reach me on Instagram @40FitNStylish, on Twitter @MelissaMcNallan, and on Facebook @40FitNStylish.