Can Sugar-Free & Dairy-Free Banana Bread taste good?
Yes. Yes, it can.
Admittedly…
It's not easy eating free of dairy and sugar. My husband is doing his best to avoid refined sugar. I'm doing the same with dairy. While Paleo recipes are often a good place to start when wanting avoid the two inflammatory culprits, they often include expensive and/or hard-to-find ingredients.
In addition to making nutrition a priority in our kitchen, I'm doing my best to reduce our food expenses and waste. Three bananas were getting beyond ripe on our kitchen counter, so I decided to perfect a nutritious banana bread recipe of my own. I love topping my slice with a bit of almond butter.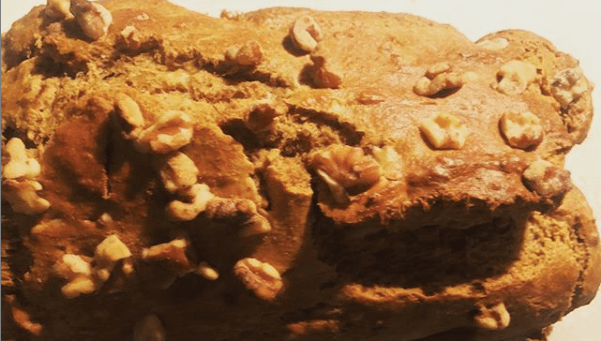 Sugar-Free & Dairy-Free Banana Bread
Prep Time: 10 Minutes
Baking Time: 50 Minutes
Total Time: 1 hour
Servings: 12
Dry Ingredients:
1/2 cup Almond Flour
1/2 tsp. Baking Powder
1 tsp. Baking Soda
1/4 tsp. Fine Sea Salt
1 tsp. Cinnamon
Wet Ingredients:
4 Large Eggs
3 Ripe Bananas Mashed
2/3 cup Chopped Walnuts
2 tsp. Pure Vanilla Extract
1/4 cup Smart Balance Omega Blended Cooking Oil
Directions:
Pre-heat oven to 350 degrees. Make sure a rack is in the center of the oven. Line a 9-by-5 inch baking pan with parchment paper. Set aside.
Whisk together dry ingredients in a large bowl. Make a well in its center.
Whisk together the wet ingredients in a medium bowl.
Pour the banana mixture into the well of dry ingredients. Stir them together with a wooden spoon until well-combined (do not overmix).
 Pour the batter into the prepared pan. Sprinkle a few walnuts on top of the batter. Place the pan in the center rack of the oven. Bake for approximately 50 minutes or until a butter knife can be stuck into it and come out clean.
It might be a good idea to let it cool for ten minutes or more before serving, but there's something too delicious about warm bread from the oven. Thanks to lining the pan with parchment paper, you really can just lift it out and cut in as you wish.

Are you trying to go dairy-free or to cut sugar from your diet?
If so, do you have go-to recipes or simple substitutions you do? I'd love to know. Please connect with me on Instagram at @40fitnstylish, follow me on Facebook, or send an email to melissa@40fitnstylish.com.