I've been a fan of Kodiak Cakes products for a couple of years. The high protein content advertised is what prompted me to pick up one of their pancake mixes the first time. I had been meeting with a nutritionist and she recommended focusing on protein. It's good fuel that helps a person feel fuller for longer.
I kept picking up their products because of the taste. And now that I know more about fiber thanks to the owners of Voila, I'm excited that most of the Kodiak Cakes products that I pick up have 3 grams of fiber per serving. That's pretty good.
On a recent trip to the grocery store, I spotted Kodiak Cakes Cornbread. One of my fiancee's children loves cornbread,  especially Famous Dave's Cornbread. I try not to have any of the Famous Dave's Cornbread Muffins when I make it, because the nutrition is less than desirable:
With only 1 gram of protein and 1 gram of fiber in the dry mix, it isn't offering much nutritional fuel. It's delicious, don't get me wrong, but…I need for food to be more than delicious, don't you?
Kodiak Cakes for the Win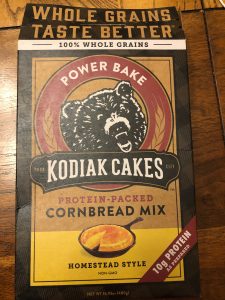 Kodiak Cakes Cornbread is delicious too. It has 8 grams of protein and 3 grams of fiber in each serving of the mix itself. I used 1 cup of unsweetened coconut milk to cut calories. It only has 45 calories per cup, but no protein. 1% milk has 110 calories and 8 grams of protein per cup. Either one will do the job. It's just a matter of whether you're more focused on cutting calories or adding protein.
The recipe on the side of the box called for 2 eggs, so that added 1 gram of protein per serving.
On the box it says that the baked version has 210 calories per serving. I believe my version has about 205 (because of the milk switch).
Have you ever tried Kodiak Cakes? What are your favorite not-so-bad-for-you packaged foods?
Here are links to purchase 3 of my favorites (I think the Cinnamon Oat is my absolute fave):
Note: Kodiak Cakes did not ask for, pay for, or in any way request that I write about their product. If you click on the above Amazon Shopping links, I will receive a small commission for your purchase.