Autumn's coziness will soon give way to winter's bitterness. Our Minnesota #StreetStyle will be defined by winter coats, scarves, and hats. As the season shifts from Pumpkin Pie Lattes to Ho Ho Mint Mochas, a hat will be more than an accessory, it'll be a necessity.
Sure, a hat can be a necessity on a bad hair day too. Most of us have put on the baseball hat of laziness, sloth, and shame before. Some of us may have even faked a sniffle or cough when we ran into an ex or someone we knew while in the bad hair day hat.
Did you know that it can be fashionable to wear a hat on a good hair day?
This season, I'm determined to face the changing weather with a cozy hat that has style. My accessorizing-abilities has sometimes required a little help from friends and unsolicited advice from my daughter. I cannot even look at sunglasses without seeing her eyes roll and hearing her voice say, "OMG Mom! No!"
That's why I love making friends with people who have style expertise. I met Shelly Daood, owner, designer, and maker at Bound to be Creative and sought her advice.
"I don't just sew hats and bags," said Daood. "I help people accessorize and be creative and cute. These hats, you can wear them to brunch, to get your groceries, to pick up the kids. It gives a woman a natural look."
"I speak for those women who want to be an extra stylish version of themselves. They want to be confidently cute with the accessory that they're wearing, have versatility and know where their product came from. #knowyourmaker."
She's just the friend I needed. We talked.
Here are some of her hat tips:
If you're going to spend the money, buy something you know you'll wear from October to January or February. Something versatile.
In winter, what's the color of the one coat you wear all the time? If there's a super colorful coat that you love, go with a more neutral hat. "If you have a plaid coat, let's not do a plaid hat."
"I want women to know that their head is not too big, it is not too small. Their head is exactly the size that it should be." Shelly does create her hats in a variety of sizes and she takes appointments for custom hats.
For fall and winter, Shelly recommends classic materials and patterns: corduroy, herringbone, brushed flannel. "I am creating a fall bucket hat and those are going to be super fun: corduroy and brushed flannel."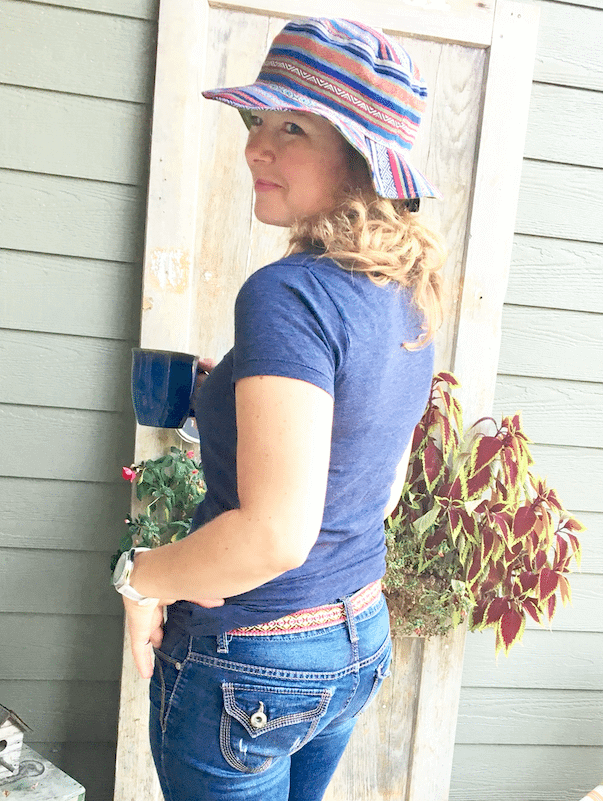 She Started with Handwritten Paper Napkins as Business Cards
True story.
Shelly started channeling her creativity into designing hats after wearing a hat she'd made to Red Wing on a day trip with her husband. "If I could have had 10 business cards that day I would have handed them all out." Instead, "It was a handshake and here's my handwritten napkin business card."
Now when she's out and about and at show in a hat, a lot of times, she'll sell the hat right off her head.
Following the advice of mom, Shelly has kept her focus on her Bound to be Creative business. "My mom said 'Shelly you're bound to be creative, but you don't have to be creative at everything. Stick to your hats, hip minis, and the doodle totes.'"
"I do all of my own patterns," said Shelly. "I dream about my products first before I create them on paper, etc. If I need a solution, I will literally dream about it."
When she sees someone in one of her hats, Shelly sometimes tells them (or at least wants to), "You already look great, but you know you could do this too. That's what I love about the versatility of my hats." In addition to being able to be worn in a variety of ways, all Bound to be Creative hats are reversible.
Working the Creative Life from Home
While Shelly has considered opening up a brick and mortar storefront, working from her home studio in Saint Charles, MN has been great. She created the all white space that has some elements created out of reclaimed barn doors. "If people are willing to travel and want to get fitted for a hat, the door's open and the music is playing. This is who I am, pets and all," said Daood. "Just contact me."
The door of her home studio has an open-close sign on it. Shelly does have five children, a husband, and the pets. "Sometimes it gets followed and sometimes it doesn't."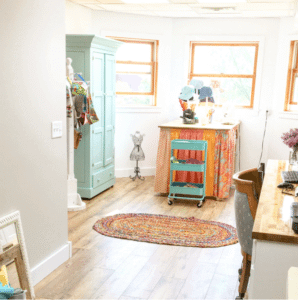 Creativity is always evolving.
Shelly went to school for graphic design. She was hired to do more technical designing brochures and similar. Then, she went to work for a beer distribution company and worked with a vinyl sign plotter to create signs like the ones that can be seen outside of liquor stores.
"I was creative working for a company, but wasn't my full potential."
Then, she became a self-taught book binder. "Books got very intense on my hands. I used to personalise them and all that." So, she asked herself, "What is the one thing that I've loved all my life?" Hats.
"Many patterns later, many bags full of misfit hats that didn't work, I'd go back to the drawing board." Yet, the work never felt like something she was fighting to do.
From creating to selling at juried craft fairs, Shelly decided to take move her business online. "For the most part it felt like a natural progression. People are drawn to me and how open I am when they come into my booth and I wanted to put that online."
Now she's embracing the teacher within and creating patterns to sell to DIY'ers online. She's started with a pattern she created for the little minis. "That goes back to my graphic design."
Right now the patterns are with her testers and will be available in mid-October.
"It's tough being the administrative person and being the photographer and the designer, but so very rewarding."
Where can you buy Bound to be Creative hats and/or accessories?
Dwell Local in Rochester, MN. Minnesota Makers in Robbinsdale, MN, at an event, and online.
If you're looking for something custom, send an email to shelly@boundtobecreative.com. Daood has created a hat with a photo of the hat the customer wanted made (15 years-old and worn), a selfie, and some emails. According to Daood, the customer said, "Thanks Shelly, it turned out great! It's pretty darn close to the original." Special orders take between 10 days and 2 weeks to create.
Want to Know More?
Looking for more hat advice, like how to wear your hair with your hat? Shelly also blogs hat, accessory, and creative advice.
OR
"If a person joins my newsletter, they get a guided series of emails about how to become a hat person: their face shape on there and advice on what kind of hat will look good on them, how you should wear a hat with glasses," said Daood. "My hats are easy to wear. You can look cute and stylish with my hats. You can throw them on, and they will definitely add a little extra kick in your step."
Do you love reading about style? Click here for more.