Isn't it amazing how Rochester and the surrounding communities are starting to develop some big city coolness, while maintaining down to earth goodness? I've noticed that when I talk to one person about an event or an artist, the person I'm talking to knows the person I'm talking about or their girlfriend's cousin's brother. Y'know, we have this whole web of connections like a small town.
So Many Artsy & Tasty Things to Do in Just One Day
In case you haven't heard September 30th in Rochester, Minnesota, is a day made for finding the just-right pieces for fall, eating great food, drinking wine and/or beer, and spending time with friends (make some new ones, keep the old ones).
If you're looking for original art, accessories, housewares and more there's so many spots to shop that day. You'll be able to #KnowYourMaker on the items you purchase. I didn't know that #KnowYourMaker was a thing until Shelly Daood of Bound to be Creative mentioned the hashtag in a recent interview with me. Her hats will soon be available at Dwell Local.
"This corner is just going to be crazy," said Paul Bennett, owner of Dwell Local. "Homestead Design will be here. It's a couple out of Albert Lea. He does industrial furniture. She does signs. Kathleen Rinnhofer has a shop down in Preston (Urban Artifacts), Nicole Mantz (CAPtivating Designs) does jewelry from vintage bottle caps, a couple of artists from Rochester's Hiding Artist Tour will be here."
That's right on September 30th, artists throughout town will be participating in Rochester's Hiding Artist Tour. Art Blitz and the Tweed Ride will also be happening.
From 10a.m. – 10p.m. Oktoberfest will be going on at Dwell Local. There will be a beer garden with German food from Grand Rounds Brewing Co. and Minnesota craft beers from Grand Rounds Brewing Co., LTS Brewing, Fair State Brewing Cooperative, Bauhaus Brew Labs and more. The Fall Market featuring makers, vintage, repurposed, and found items will be open from 10a.m. – 6p.m.
At 11a.m. a wine tasting featuring more than 40 wines featuring vendors from all over the state will be put on by Tessa's Office Wine Boutique. Entry is $10. It gave me a great excuse to stop by Grand Rounds Brewing Co. and interview Tessa Leung.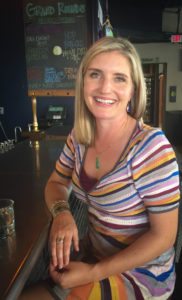 Q: What makes a good wine?
I think what makes good wine is it pairs with food, it evokes a memory, or a feeling; and, it's got the extra something going on that you wouldn't necessarily expect. When it reminds me of blue fruit and a pie that my grandma made, it really evokes something. I'm not a big fan of high alcohol wine. They tend to overwhelm the food and the moment; and, then you can only have a glass.
Q: What would you tell to someone who hasn't been to a wine tasting before?
You can dump. You don't need to drink all of it. You don't hurt anybody's feelings. It doesn't mean it's a bad wine. It's just not for you. We like it when people can tell us they don't like something. If you tell us why you don't like something, we can direct you to something you will like.
Sometimes people will say that they don't have a tongue for tasting wine…
I tell people that's bologna. You have a tongue. You can taste. You're the buyer. You should never be intimidated. They'll say, I don't understand all these flavors. I didn't understand either. All it is, is practice. I'm just lucky to get a lot of wine and a lot of practice.
I couldn't help, but ask since she's been a significant part of Rochester's food scene for awhile…any advice for hosting dinner parties?
If you're going to host a dinner party: always give yourself enough time, make sure you have a job for guests to do, always have a bottle of wine ready to share, and don't make it so formal. I'm a big believer that things shouldn't match.
How you set your table sets the comfort level. Mismatched candles or wine glasses or silverware that's all over the place. I purposefully don't match napkins. If people see a formal setting, they think it's going to be a formal conversation. I'd rather people are laughing than being freaked out.
I do have all the correct wine glasses. I do serve all of my wines in the right wine glasses. I don't judge when I go to other people's houses.
I decided to ask Paul Bennett of Dwell Local for a little shopping and decor style advice ahead of the weekend. I love getting to talk to people whose style and taste, I admire. It was such a treat to talk with both Paul and Tessa. 
When shopping cool markets like the one you'll be hosting, I tend to get overwhelmed. I'm not sure what I should buy to go with other things in my home or how I'll use what I buy when I get home. Is there advice you have?
My best advice is something that just catches your eye. It doesn't have to be a pumpkin. You could go with a mercury gourd.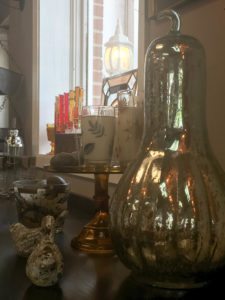 When it comes to decorating spaces you entertain in, what do you recommend?
I really like a mixture of different surfaces, some shiny and some rustic. A glass candle holder with a wooden bowl. Varying height with cake stands, risers…it can be a chunk of birchwood. For a more refined look, you could do a grouping of candles and vases, fill it in with flowers.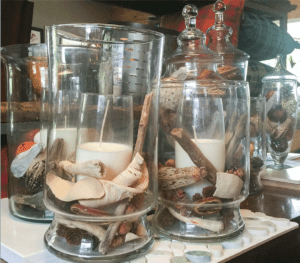 Our conversation turned to all of the vendors Paul is excited about hosting at Fall Market. Several makers will be on hand, creating their art: Cecilia BoggioGlass), Lynn (LJ Block Designs), Jeanne (Whispering Woods Art), Amy (Intertwined Designs), Josiah Hansen Leather, and more.
Other vendors to expect: Mums & More, Farm Girl Finds, Anne's Creations, Tin Treasures, Katrina's Handmade Jewelry, Comfortbugbyheidi, A3 Artria, RSTees.