Oh the omelette. Apart from how to spell it (omelet? omelette?), when it comes to the omelette, there is little to argue about in our house. Other ways of preparing eggs can lead to quibbles. Will making eggs over-easy cause illness? Must scrambled eggs really be brown (burnt) to be called done? Even writing that last question causes me to look at my computer screen with a mix of indignation and disdain.
When I make omelettes, I can cook mine just right and overcook my husband's. Then, we're both happy.
Protein is key to weight loss. When I eat a bagel for breakfast, I'm hungry an hour later. When I eat an omelette for breakfast, I can go a few hours and find myself craving grapes or an apple later. Add some veggies (plants) and the omelette is about as complete as a meal gets.
One large egg has approximately 71 calories and 6 grams of protein, while one large egg white has only 17 calories and 3.6 grams of protein. This may make the creation of an egg-white omelette tempting. After all 10 egg whites would provide 36 grams of protein at only 170 calories – amazing!
Before giving that egg-stravagant (couldn't help it) idea a try, you may want to consider Nora Ephron's Wisdom:
In her essay, The Informational Cascade and the Egg-White Omelette, Ephron writes, "I have friends who eat egg-white omelettes. Every time I'm forced to watch them eat egg-white omelettes, I feel bad for them. In the first place, egg-white omelettes are tasteless. In the second place, the people who eat them think they are doing something virtuous when they are instead merely misinformed."
Chris and Melissa's Omelettes:
I begin with a little extra-virgin olive oil in a saute pan. Then I add 2/3 cup of Simply Potatoes Southwest Style Hash Browns (80 calories total, so only 40 calories per omelette), red pepper flakes, and whatever veggies we're in the mood for or are at the ready. This morning I stuck with red onions and mushrooms. I often add cilantro, jalepeno, red or green peppers, scallions, or similar. Once in a great while I put some bacon in, but bacon tends to be a Sunday-only treat.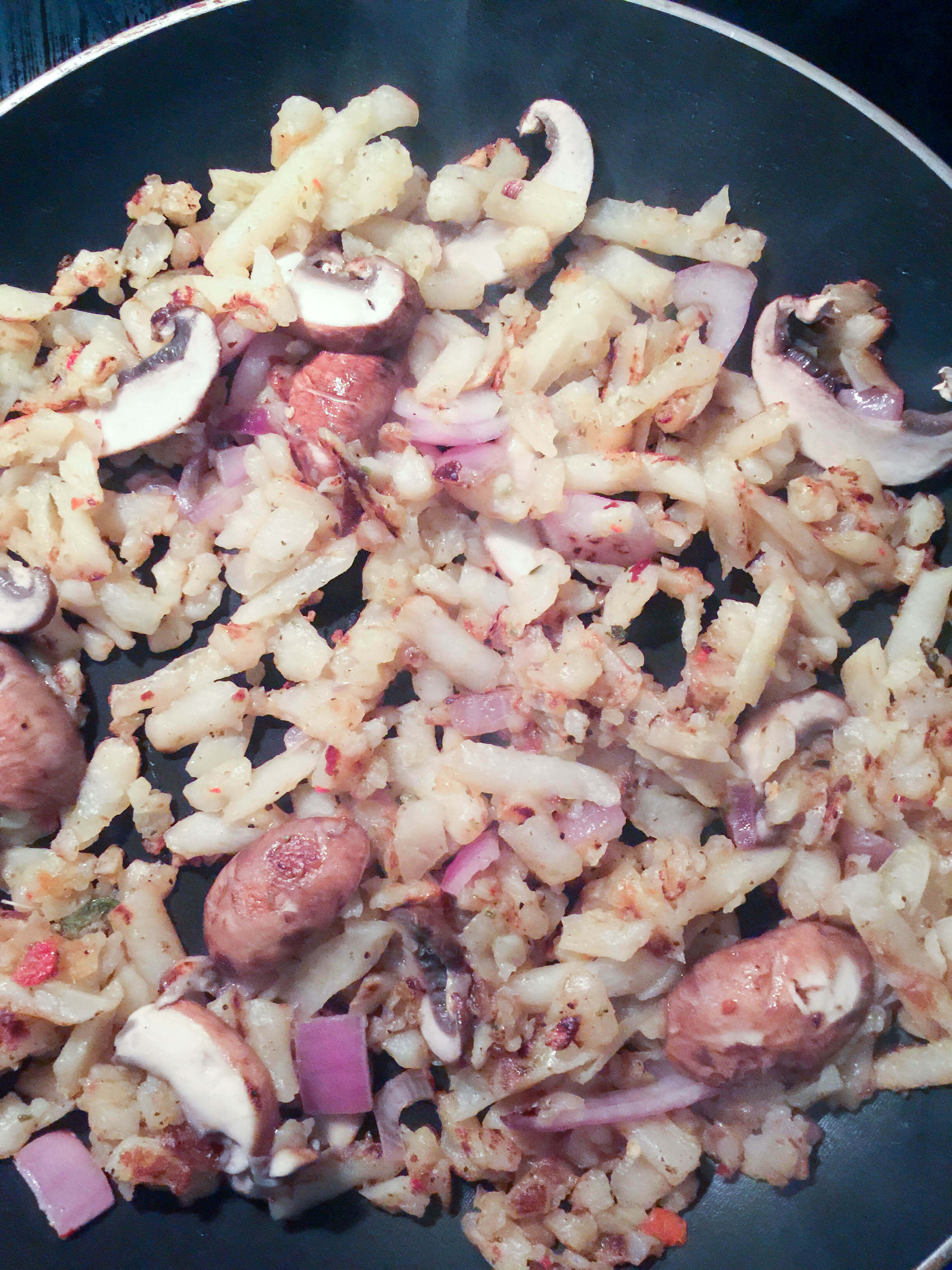 Once the hash browns are about 3/4 of the way to done (I can't stand underdone hash browns!), I start mixing together eggs for Chris's omelette. For his, I mix up 2 large eggs, 1 egg-white, 1 Tablespoon of water, some salt and pepper.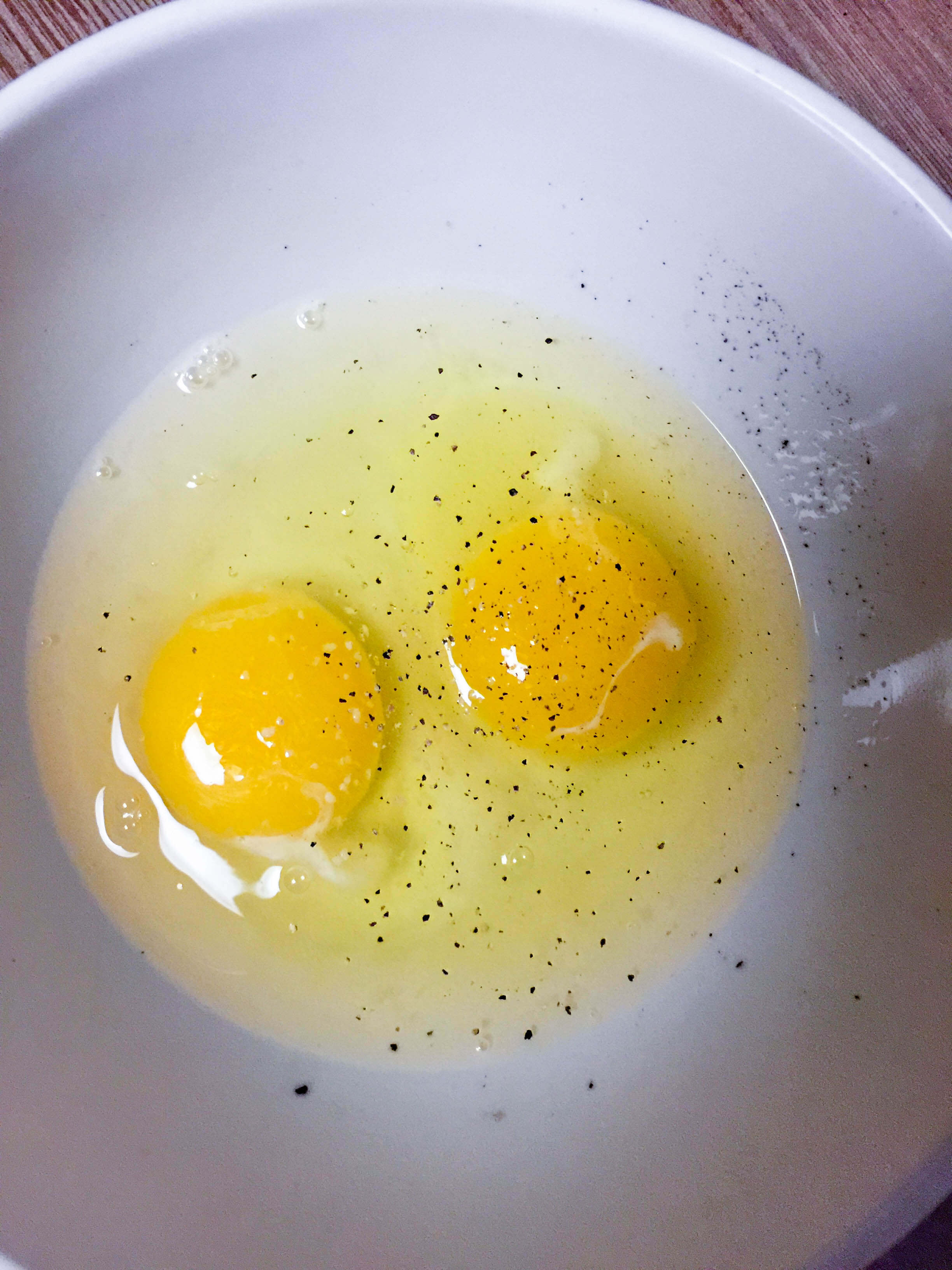 I whisk the eggs until they look just a little frothy. Since I don't use milk, I don't think they get as frothy as they would with it.

Confession: I use Smart Balance buttery spread in the pan I cook our omelettes in. It adds that certain je ne sais quois. It maybe takes a teaspoon to a teaspoon in a half melted to coat the little pan.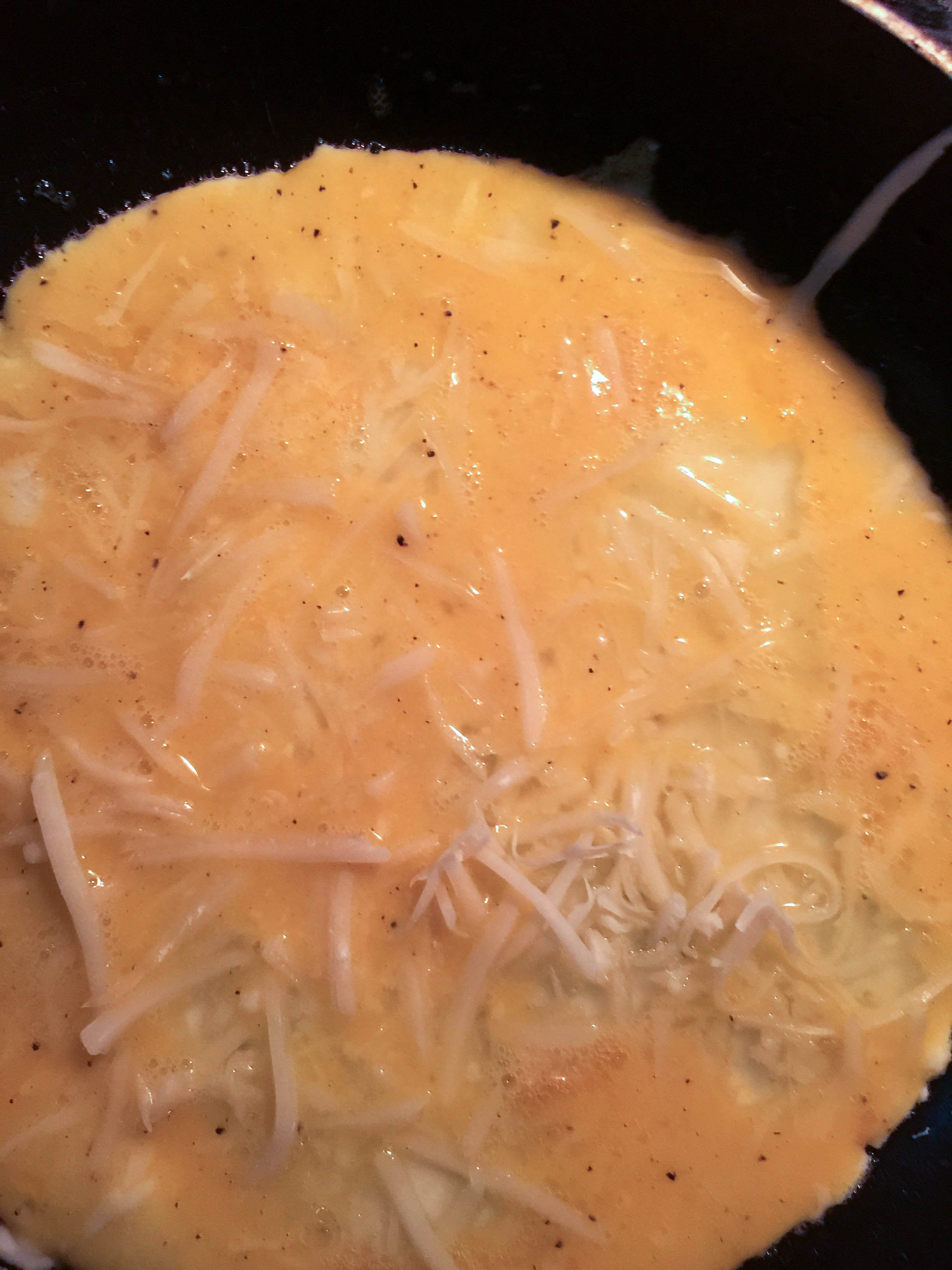 For cheese, I add 1/4 cup Kraft Fat-Free Mozzarella*. It's just 45 calories and adds plenty of yumminess. Then I portion in the hash brown, veggie, and seasoning mix. Fold and turn and voila:
The only difference between our omelettes is that I use 1 large egg and 1 large egg-white. Mine comes in at about 250 calories. Chris's is about 330. We're both happy. Nobody's starving. Chris usually suggests that I open up a restaurant as he eats.
Update: 
This post was originally written in 2017, back when I ate pre-shredded cheese. In 2018, I started only using block cheese that I would buy at the deli counter of my favorite Hy-Vee. Now in 2019, I barely consume dairy. There are lovely vegan cheese options available, or an omelette can be made without cheese at all and still be delish. 
Let's connect! You can find me on Instagram at @40fitnstylish.