What's in fashion and on-trend changes with each season. That means the What's In and What's Out lists in magazines have drastically changed about 88 times from the time I was 18. A lot happened in my life and to my body during those seasons.
By 40, most women have experienced some significant changes in their life. I've been pregnant. My post pregnancy bod shrunk pretty fast thanks to the hours of waitressing and bartending I did to pay our bills. While married I gained 30 pounds. Approaching-divorce, I lost 20. Post-divorce, I lost another 15. (Breasts and Ice Cream and Weight Loss and Bikini Tops). Now I'm engaged, happy, and focused on my health. I've gone from server and retailer to marketing and sales professional to blogger and business owner.
Fashion and life changes at such a frantic pace that it's great to have an expert to consult. Enter Wardrobe Stylist, Alicia Goodson.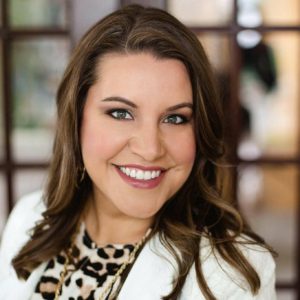 She was voted best dressed in high school, went to college for Marketing and International Business, did study tours in Athens and Vienna, and has been Certified at the Fashion Stylist Institute in Sacramento, California. We chatted about how to embrace style in one's 40s and for Winter 2017.
It's Time to Invest In Quality
"I always stress the importance of classic pieces, quality, and fit," said Alicia. "You are now an established woman in your 40s, you've worked hard in your career." Alicia advises that buying a blouse or pair of pants that may be more than you'd normally budget is worth the investment. The fit will be better and the piece will flatter and last better than a cheaper apparel item.
Find the Right Fit
It's not about the number on the tag. Often a woman's body perception stretches her size to something beyond what it is. "Don't pay attention to the tag," Alicia advises her clients. "Let's not look at the tag, let's look at the fit. Let's look at what's going to flatter your body."
Often Alicia's clients will tell her they are a certain size. Then they'll try on the clothes and she'll tell them that the clothing is way too big for them. "We don't want things that are constricting, but we want things that will fit you, so we get that polished look."
She has worked with a woman who lost a significant amount of weight who had never been the size Alicia wanted her to try on. "This is your new shape and we need to show it off in a way that makes you feel more comfortable."
This led to us talking body types and what clothes work withe each type. Alicia does measurements of her clients before identifying which body type they are. Better to be precise and right, then guess and be wrong. "A v-neck looks great on most women."
Work the Trends with Wisdom
"Some say leave the trends to the 20 year-olds," said Alicia. "Look at the trend and make it age appropriate." She shared the jumpsuit as an example. According to Alicia, 20-somethings working the jumpsuit trend wear jumpsuits featuring short-shorts or off-the-shoulder looks paired with short-shorts. Those of us in our 40s can still rock the jumpsuit. For 40-somethings, she recommends a solid black, long jumpsuit.
Hearing her thoughts on trends and v-necks was exciting to me, because now I feel more confident in what I plan on wearing to the Festival of Trees Opening Night Gala, a Black Kyara Tux Jumpsuit by Diane von Furstenberg that I've rented from Rent the Runway.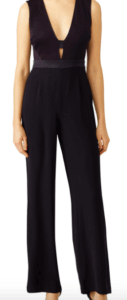 I showed it to Alicia and received her nod of approval. One thing about interviewing Alicia that I really enjoyed is that she comes across as one of those kind and candid people. Not everyone is capable of being both. I feel confident that she would have tactfully advised making another selection if she thought I would be working the trend wrong.
As we talked, I started thinking of Stacy London from the show What Not to Wear.
What Not to Wear
Remember that show? I loved it!
What to Wear this Winter:
"Velvet. Velvet everything. Sequins. Glitz. Glam. Dark burgundy, dark forest green, black embellished with pops of silver and gold sequins. Pearl embellishments on jeans."
Using staples to parties that the dress code varies at:
"The LBD is something that you can never go wrong with, because there's ways you can dress it up and dress it down," said Alicia. "You can add a statement piece and a really fun shoe." She also recommends wearing a printed shawl in winter.  "It adds a little something different to your outfit. If you don't want to be too casual or too formal, it's a good in between."
Trendy ideas for this winter's parties:
"The cobalt blue and black combination is really hot. Metallics are also huge. If doing a top or jacket in a metallic is scary, another way to do it is a bag, shoe, or gloves," advised Alicia. "Red is the Fall 2017 color of the year, whether it's burgundy or apple. Leopard is also huge. You could do a leopard print shoe or vest."
Quick Boot Rules for this Winter
I've been asked and now I have an expert's opinion.
"If you're wearing an ankle boot, make sure to cuff your jeans so it's not bunched. Cuff the pant right above the boot. Wear a skinny, straight pant to wear taller boots."
Is there too much in your closet?
Like a dear friend of mine, do you have six cream or black colored sweaters? Alicia suggests addressing the issue by asking yourself:
Which one do you wear the most?
What's most flattering on your body?
What haven't you worn in a year?
What can you let go of?
Alicia's noticed that some people fear letting go of an item because of a memory its tied to. Maybe a loved one who has passed away gave them the item or it reminds them of a trip they went on. "By getting rid of that piece you're not getting rid of that memory. You're not going to lose that memory," said Alicia. "Let's really fill our closet with things we're going to use."
What's it like to work with Alicia?
It begins with questions. Alicia wants to get to know her client's style. Their likes, dislikes, any allergies to fabrics, and favorite snacks. Yes, favorite snacks. She does a goodie bag with favorite snacks, a bottle of water, and a little something fun like a candle, notebook, lip gloss, etc. She puts the goodie bag in the fitting room along with the clothes she has pre-selected for them. Measurements are also done, so the clothing selected fit her client's body type.
She and her client will talk about and select three stores ahead of the shopping day. Then Alicia pre-shops and sets up the fitting rooms. There is no wandering around the mall. If a different size is needed, Alicia will get it for her client. The client never needs to leave the fitting room. Alicia even carries all of her client's shopping bags for them.
A few of her favorite Rochester, Minnesota stores include: Mainstream Boutique, Posh Boutique, and Primp.
I love fashion. I love everything about it. I love helping people gain confidence," said Alicia. "When they look in the mirror and they say, Oh my God I feel beautiful. That's the biggest satisfaction for me."
You can connect with Alicia by messaging her through her Facebook page Alicia Goodson Stylist. Her rates at the time of publication for this piece are $55/hour for closet editing / personal shopping. $65 wardrobe delivery service.