Yoga's vast and varied benefits are enough to tempt a marketer to package it up as a wonder drug. After all, it can boost your immunity, strengthen your bones, improve your flexibility, lift your mood, reduce your anxiety, and so much more. Yoga Journal put together a list of 38 benefits, yet, I'm sure it doesn't cover them all.
Practicing yoga at home can be intimidating. If you're a beginner, it can be a struggle to remember all of the asanas in a sun salutation, or to get in flow. Yogis who have practiced in studio for several years may feel lost practicing without an instructor. Home can be full of interruptions. I have a five tips to help you overcome hurdles to doing yoga at home.
Top 5 Tips for Doing Yoga at Home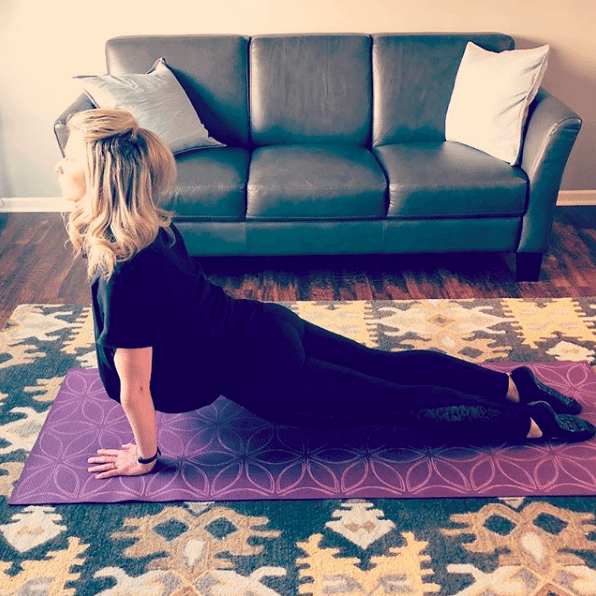 Make space for doing yoga at home. Make room for a mat. If you plan on following online instruction videos, consider using a space with a television you can cast to. Or, one with a spot for your laptop.
Be ready for impromptu yoga sessions. My yoga mat is unrolled on our bedroom floor. Most of my wardrobe permits movement. Whenever I want to do a sun salutation, or two, I go to my mat.
Fit a yoga into time crunches. DailyOM and YOGA IS provide access to quality instruction that can be accessed online 24/7. Both offer varied class lengths. Some classes are for 20 minutes. Others run over an hour. Save links to classes and organize them based on time in a notes app, or document. Find one that fits your schedule and hit play. No commute required.
Take classes online from instructors you like and trust. Free may be a great price. Yet, there are great reasons to pay for a class series, or subscription:

You won't waste time scrolling for something that you might like, hit play, realize it's not for you, stop, then search for something else.
A class series offers a progression that can help you deepen your practice. See Sadie Nardini's Fit and Fierce Over 40 class.
Subscribing to a quality program like YOGA IS can broaden your practice. It provides perspectives and practices by world renowned experts in yoga, meditation, and spirituality. Just today I watched an interview on YOGA IS with Deepak Chopra and learned that yoga means union.

Embrace the challenges of doing yoga at home, especially if it's a busy home. It builds focus and let-it-go muscles. This tip has a story to go with it.
Building Focus and Let-It-Go Muscles (personal experience):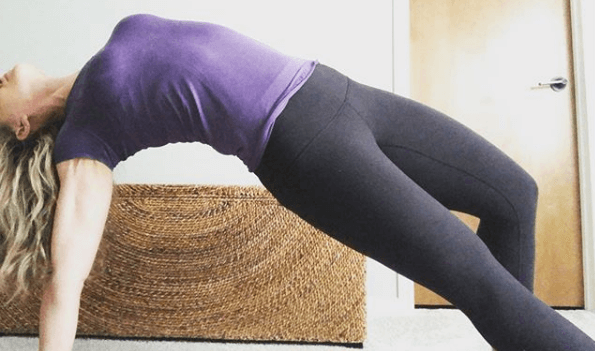 Last Wednesday evening, I texted my fiance, FYI – I am doing some yoga love. I was in our bedroom with the door locked. I hit play on Desiree Rumbaugh's YOGA IS class, For Emotionally Mature Audiences Only. It's fantastic.
As I followed Rumbaugh's instructions, teenage boys squabbled. Giggles happened. All was loud enough for me to hear through the door. We have a full house.
About five and a half minutes in, Rumbaugh cued taking a heart opener from vasisthasana (side plank). "Shoulder blade tips coming toward each other," she instructed.
As I followed her guidance I felt like there were angel wings reaching from my back and connecting. My fiance knocked on our bedroom door.
I hit pause and unlocked the door. He needed something from our closet. I hit play and resumed. As I returned to side plank with the heart opener, he kissed my cheek. I began falling out of the pose. He steadied me. It felt ironic. I was doing a heart opener that I felt like I was flying in; and, my love caught me.
Sure, I wouldn't have needed his help had he not thrown me off balance with a kiss. Yet, ignoring that detail makes it romantic. Romance, or honesty? Framing it is a choice. I choose romance.
Practicing yoga at home while sharing space with others who aren't helps me strengthen my resolve to continue; growing my adapt and overcome muscles. Life doesn't stop. It'd be absurd of me to expect silence throughout the house while I practice yoga. Ten years ago I might have been upset. Thanks to practice, I am at a point in my life where I have found myself able to note a distraction and move on.
How do you yoga?
Where do you prefer to practice yoga? Do you have a favorite online program? I'd love to hear about it. You can connect with me on Instagram @40FitNStylish, on Twitter @MelissaMcNallan, and on Facebook @40FitNStylish.