What does a woman do at a women's retreat? Until this week, I wasn't quite sure. For the first time, I began my week by attending Women Ignite, a retreat designed to "give participants everything they need to take their professional and personal lives to the next level."
On Sunday afternoon, I drove to Stillwater, Minnesota. After exploring the river town, I checked into Lowell Inn situated a few blocks up Myrtle Street from Main Street. A 1985 New York Times article described Lowell Inn as being, "at the heart of Stillwater, physically and spiritually."
My room was both cozy and elegant, adorned with French Country decor.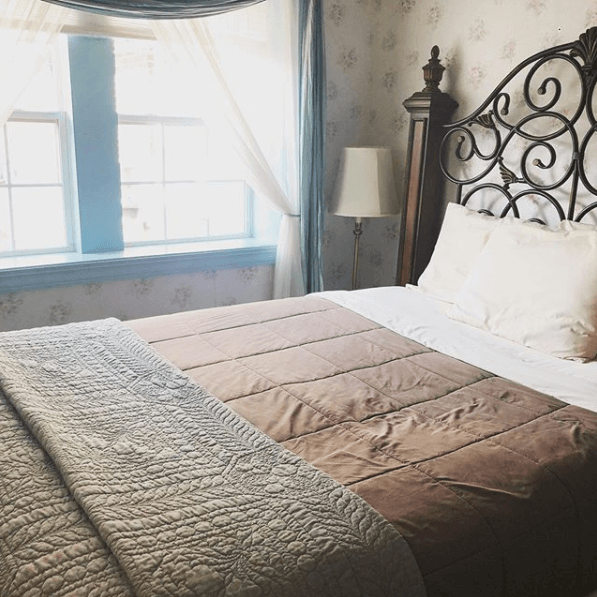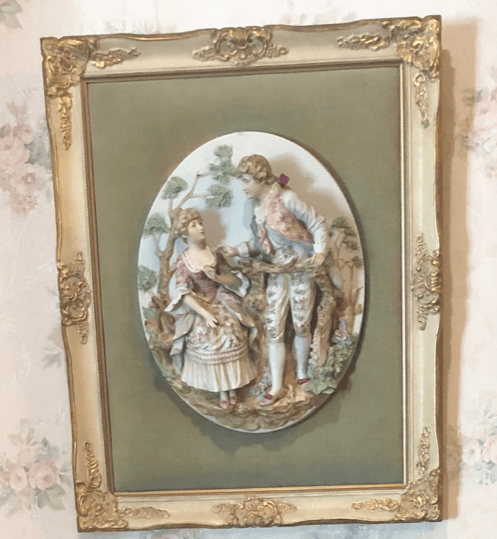 I unpacked; and made myself at home by hanging up my outfits and lining up my shoes for each day's events. Then, I touched up my makeup and hair for the welcome reception and cocktail social that began at 6:30.
Then, I prepared myself for the inevitable…
What do you do?
It's that four-word question asked at cocktail parties, networking events, and kids' sporting events. I was caught off guard by the four-word question a couple of weeks ago while pushing a cart full of produce at the grocery store. I'd run into one of my ex-husband's relatives.
"Where are you at?" she asked.
"What do you mean?"
"Well, what do you do?"
After recovering from a blank stare I said, "I write. It's fun."
To be honest, I sometimes want to be a tow truck driver, someone useful in another's time of need. Telling people that I write feels like admitting I'm inept. Confessing to being a blogger…well…isn't everyone now?
How bad has my answer been to the four-word question?
So bad.
It's gone something like this:
I have this blog called 40 Fit N' Stylish. It's just kind of this fun thing that I get to do and it's aspirational. It's not like I think I've arrived at being fit or stylish. I'm 40. Well, 41. I also write a bit for others sometimes. What do you do?
It even went a lot like that on Sunday evening.
Why do I talk about my blog that I've worked hard on for two years like that?
Habit. I've been qualifying myself with the word just for years. Back when we called phones that hung on walls and people asked, who is it? My answer was, just Melissa. Well, it was until a friend's mom had a talk with me about not undervaluing myself with the word just.
My blog hasn't made much money.
I've felt guilty about it. I've never felt guilty about waitressing, retailing, or selling cars; but, nothing flips my guilt switch like pursuing my dreams.
Once I relaxed into socializing on Sunday night, I chatted with the women I'd met beyond the social's 8:30 end time.
Digging into the Real Retreat Work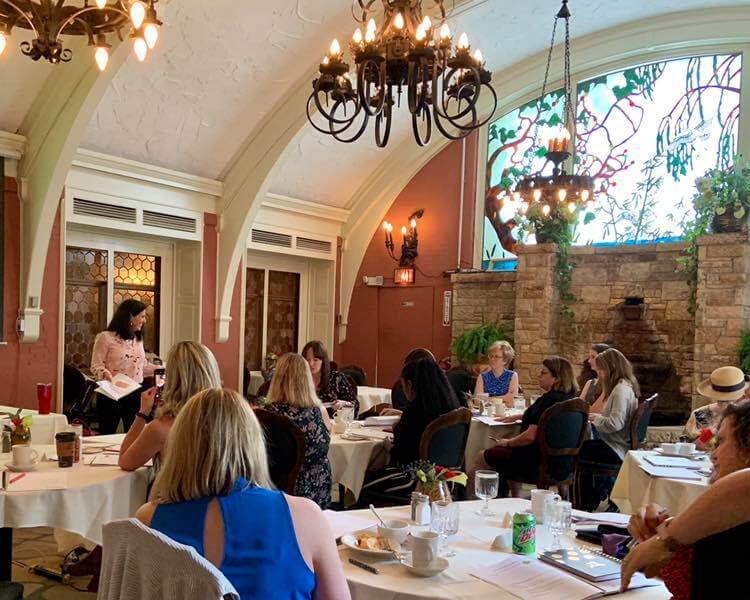 Well ahead of arriving at the retreat there was a values exercise to complete. My results nagged me from the moment I took it into Monday morning. Why? They kind of make me feel like a jerk.
My number one value is creativity. Isn't it supposed to be something like world peace, or love, or family? That's what decent women value most, right? Peace ranked #8 on my list.
On Monday morning, Heather Johnson, the creator and facilitator of Women Ignite began our session by sharing stories about women who have influenced who she is and who she is becoming. Then, she invited us to think about the women who have influenced us.
I thought about my Grandma Lynch. She admired creativity, storytelling, and a person's ability to negotiate a situation with cleverness. If she valued creativity, I could too, right?
I doubt it was her number one value. Nothing lit her up like children and spending time with family. We are different women.
"Our values separate us from other people," Johnson said as she pointed out that adopting the values of others isn't helpful.
Vision, Mission & Values
"The number one predictor of success is having a clear vision of where we want to go," Johnson said.
We each spent time brainstorming our next level vision in five areas: personal, family, professional, community, and spiritual. Then, we each wrote down one or two goals that we'd need to achieve to realize our vision.
Johnson recommends working one to five years out on a vision.
Values and vision influence the creation of a personal mission statement. Refining a real mission statement can take weeks, so it was discussed but not done during the retreat. Values, vision, and mission are deep dives that are important to get right for oneself. If I keep letting other people's visions become my own, when will I go in the right direction for me?
Do you have a vision for your next level?
I can't promise you a rainbow.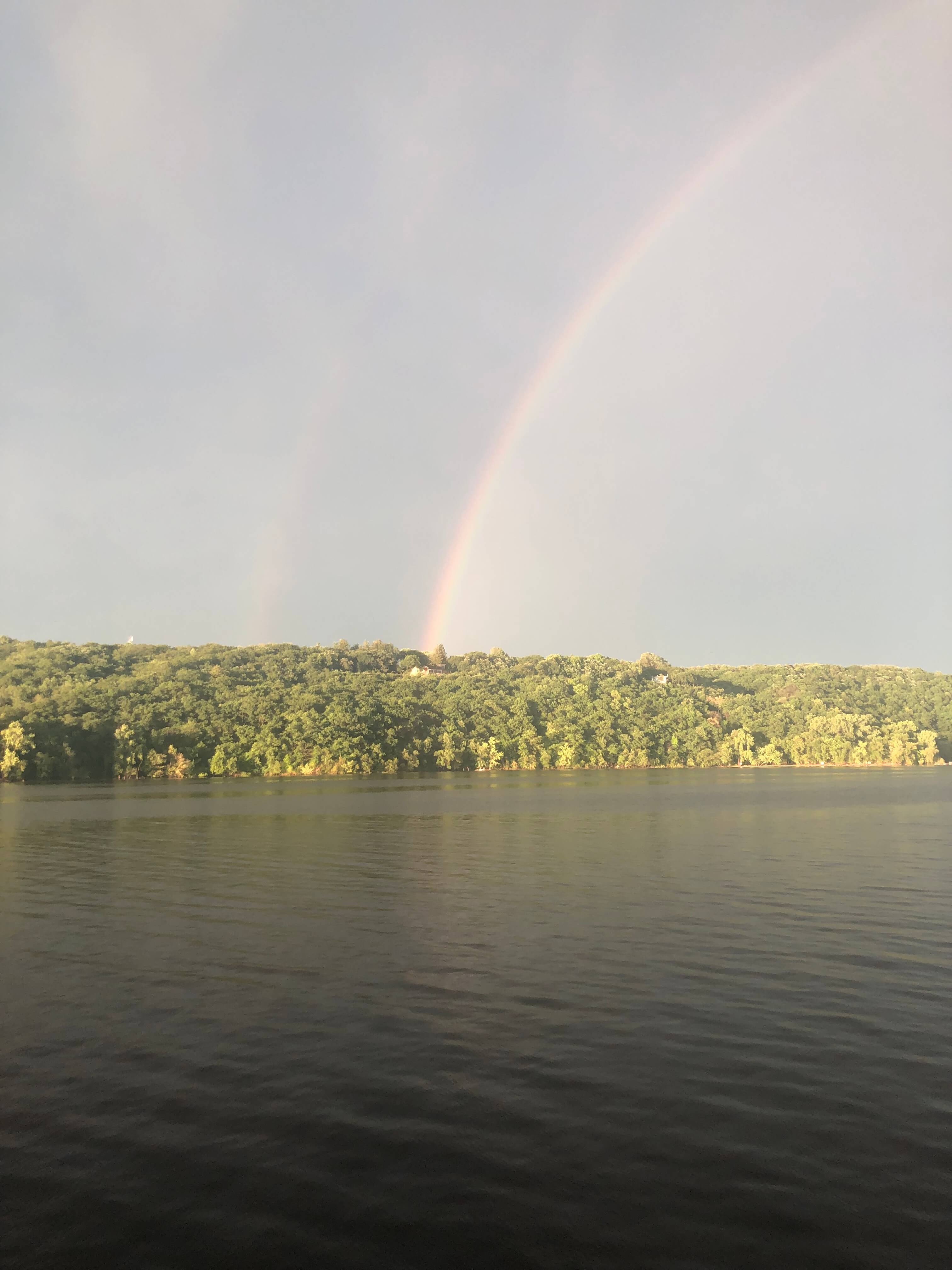 On Monday evening, rain threatened as we boarded a paddleboat on the Saint Croix river. Retreat participants and about twenty guests of Klassen Performance Group (Heather Johnson's company) mingled as the boat rolled down the river. Thunder clapped and the occasional streak of lightning flashed across the sky. Bridget, a science savvy engineer assured me that we were safer in the boat than we were on land.
"What's been your favorite part?" was a popular conversation starter in the dining room below deck. "Habits," was a common response.
After brainstorming visions that morning, we learned about the neural pathways that build habits, how our brain processes habits, and how we can alter habits that don't serve us.
"Old habits are not just meant to be broken," said Demetree (Dee) Fraley, one of the participants, as we discussed what we learned. "They're meant to be replaced with healthier ones."
That afternoon, we had also worked on strategically designing our networks, generating energy and sharpening our focus for maximum productivity; and, we made vision boards.
Remember making collages in school?
We made our vision boards using the same tools I remembered using in junior high: magazines, card stock paper in a variety of colors, markers, glue sticks, scissors, and tape. Vision board time was both hushed and chatter filled. We focused, bonded, and created.
I used to do this all the time.
Me too. Why don't we do this anymore?
I'm not sure.
My vision board surprised me, much like my values had before. The instructions were to focus on what we really wanted, not the design. I couldn't help myself. Even if I'm not as talented as I'd like to be when it comes to art, the look matters to me. Now I know.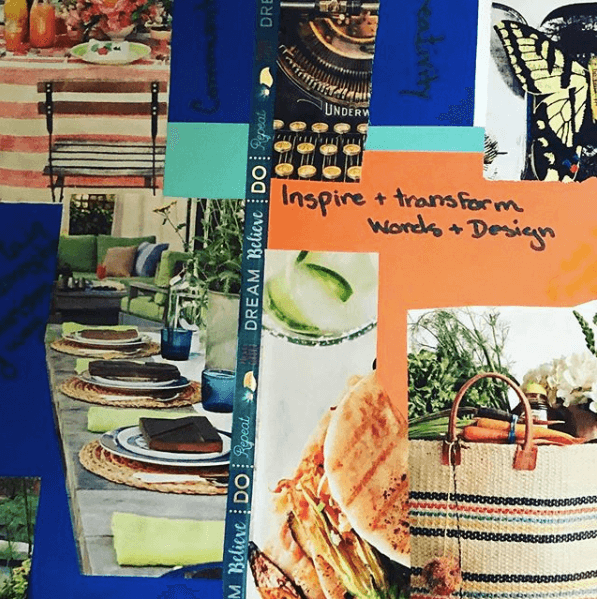 When I give myself permission to let go and decide for myself what matters, I sure do find out. My vision board includes writing, creating relaxing spaces, entertaining, getting to know food producers, shopping, cooking, and spending time in nature (despite being allergic to the outdoors right now).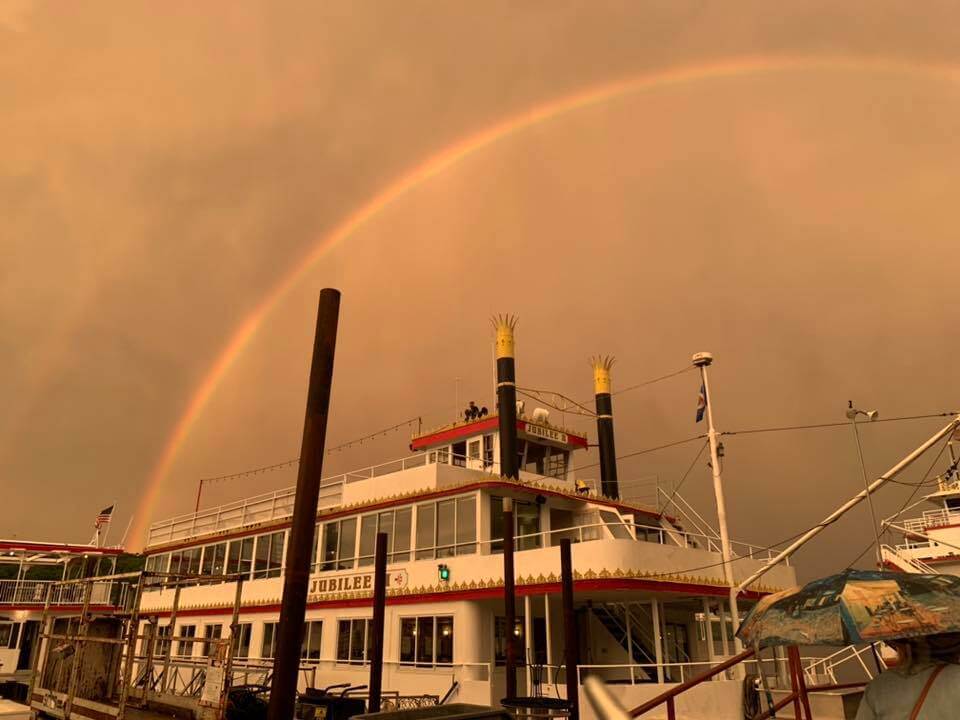 As we neared the docks, Heather came into the dining room and encouraged us all to go above deck to see the rainbow. One was arching over the St. Croix River. Rainbows are rare; to see the full arch of one like we did that evening is rarer still.
Looking at the natural wonder, I couldn't help but feel I was in the right place for preparing to ascend to the next level of my personal and professional life.
Keeping a Positive Habit
Once off the boat, my fiance and I found each other. He came to town (it's less than 90 minutes from our home) so that we could keep up our date night tradition (habit). We enjoyed a nightcap together at Brick and Bourbon, great company, cool atmosphere, and crafted cocktails.
Making a New Habit
At the end of my day, I'm now taking ten minutes to tidy up my desk and to list objectives for the next day. I star one thing on my list. What one thing will I be tense by the end of the day if it's left undone?
I'm three days in post retreat and I do feel more in control. My day feels more purposeful and less like a random free flow of to-do's. I like it.
The next day
On Tuesday morning we reviewed and reflected on Monday. One revelation I believe we all had is that we were now a group. We'd gotten to know one another and cared about each other. The last time I remember becoming such fast friends with a group of women was at Girl Scout Camp. So, you know, just 30 years ago.
Learning to Influence
As a writer, it's my job to influence. Yet, when Heather asked who has to influence others in their work, I didn't raise my hand. In the past, I've been a competitive and persuasive speaker. I have the trophies in a box in the crawl space of our basement to prove it. Come to think of it, maybe I should move those to where I can see them and be reminded of what I can do.
We unpacked and practiced using communication tools to help us influence. Then, we paired up and took videos of one another speaking to a group. Again, it was a chance to both develop myself and get to know another woman better.
Building a Plan of Action
Before putting together a personal action plans to leave the retreat with and take into the world, we looked for ways to make more time in our days. What good is a vision, if there isn't any time to implement it?
Then, we worked on strategies for resilience. Setbacks are inevitable. Johnson quoted Sheryl Sandberg, COO of Facebook and founder of Leanin.org, "Option A is not available. So let's just kick the shit out of option B." Fraley and I chatted about this later on and I loved her addition to Sandberg's words. "And don't get bent out of shape if it's option C."
Each of us developed three personal action plans that we reviewed with those at our table. Each plan began with a goal, followed by action steps with dates, progress indicators, and the identification of potential obstacles.
In the end…
I left with swagger.
I have attended two networking events since the Women Ignite Retreat ended. REFINE, a faith based networking group for professional women was the first event. A marketing panel hosted by the WE Forum was the second. At both, when it came to the four-word question what do you do? my answer was:
I run a blog called 40 Fit N' Stylish where I share style, fitness, and recipe ideas from a 40-something perspective, along with personal essays and reflections. I also write for a variety of businesses and publications.
Smile. Eye contact. Converse. Go deep. Why not?
A few days after the retreat, I asked a couple members of my new personal board (that's what Heather encouraged us to become for one another) for their thoughts on Women Ignite!
Here are their thoughts:
"Heather is an amazing facilitator and delivers research-proven tools to realize the life you imagined. I left Women Ignite! with an action plan and the inspiration to tackle it, by eliminating time bandits, improving the keystone habit of sleep, and refining my values and vision statement." — Ann Garbow
"The retreat (stepping away from the business) allowed me to spark some new ideas and strategies as well as kindle and fine-tune processes already in place. I left with new tools in my toolbox and lifelong relationships on my personal board of directors. I am an IGNITED woman; watch me burn and give light to everyone in my path!" — Demetre (Dee) Fraley
What does a woman do at a women's retreat? If it's anything like the one I went to, she ignites her unique light and keeps shining.
Have you been to a retreat before? What about it was meaningful to you? I'd love to know! You can connect with me on Instagram @40FitNStylish, on Twitter @MelissaMcNallan, and on Facebook @40FitNStylish.
.