#TacoTuesday is my favorite meal making night of the week. Why? Because the recipes are so easy to make. It also makes weekly meal planning easy for one-night. What to do with the rest of the nights? I'm figuring that out.
I really need to streamline my weeknights as I work on growing my business, how about you? One thing's for certain, as I figure it out I'll be sharing what I learn with you.
Fast, tasty, and forget-about it so easy to make #TacoTuesday options:
My current #1 choice is NYT Cooking's Slow Cooker Chipotle Honey ChickenTacos. If you like spice like we do, it may become your favorite too. I make it on kid-free Tuesday nights, because they prefer options with a little less heat.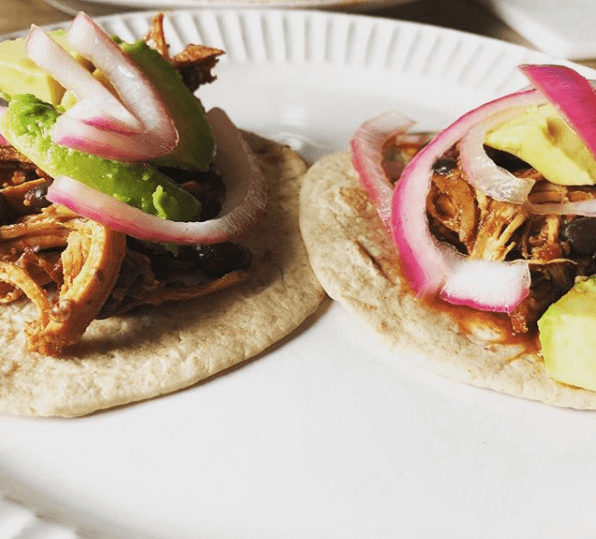 These are ridiculously easy to make – one more reason to love them. I can get all of the ingredients mixed into the crockpot in less than 15 minutes.
Recipe Changes & Thoughts:
One time-saving cheat I do is skip on chopping the chipotles. Instead, I dump the whole can in. My brand of choice is Embasa and I purchase the 3.5 ounce can.  Like I mentioned, we love the heat. If you'd rather make it more tame, pulling the peppers from the sauce and chopping them up is probably worth the time.
One substitution I make is using Just Bare Chicken Breasts instead of boneless, skinless chicken thighs. We prefer white meat and I've never actually seen boneless and skinless chicken thighs at the grocery store. Maybe I don't look hard enough.
The recipe calls for pickled red onions. Just slice up some red onion and soak the slices in vinegar for about fifteen minutes. Totally worth it! The extra flavor dimension is fantastic.
It's been awhile since I've made my own Carnitas de Casa de ChriMel (Chris and Melissa – get it?) con Chipotle Adobo y Jalapeno. When I first wrote up this recipe I didn't realize that chipotles are dried and smoked jalapenos. Isn't it nice that there's so much in the world to know that at 41, I can't imagine knowing everything about even one subject? Yet, the  mix of chipotles with fresh jalapeno does add some fun flavor dimension, so the name and the recipe stays. In addition to being tasty it is so easy to make.
Recipe Changes:
While I like it best using the juice of one lemon, one orange, and one lime it'll still be great without one of the three. I don't know if I'd try it with three lemons, but…well, if you do, please let me know how it goes.
I made the above before going dairy free and it's definitely delish. They're a bit more time consuming to make than the other taco recipes, but totally worth it. By time consuming, I'm talking maybe an additional 15 to 20 minutes and sometimes I think that happens because I have ADD. Everyone at the table (teens and adults alike) loved them.
Recipe Changes and Thoughts:
Again, I use Just Bare Chicken Breasts instead of boneless and skinless chicken thighs.
Definitely do the slaw. Usually something like that is too far out there for the kids. They loved it and so did Chris.
One Not Quite a Taco #TacoTuesday Suggestion:
Melissa's Healthy-ish Chicken Enchilada Chili (inspired by others)
#TacoTuesday Ingredient Recommendations: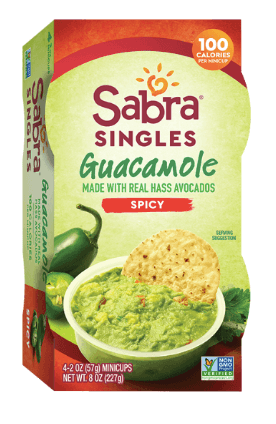 Sabra Singles Spicy Guacamole. I used to go all out and make homemade guac. There's little in the world that Chris likes more than amazing, homemade guacamole. Monster Cookies, maybe. However, I became frustrated by trying to buy avocados at the right time for perfect ripeness. It can be an expensive mistake. Also, mashing avocados takes more time than I have patience for (sometimes). We now love Sabra Spicy Guac in single serving packs. I first found it next to the hummus (by yogurts, etc.) in the freezer section of Hy-Vee.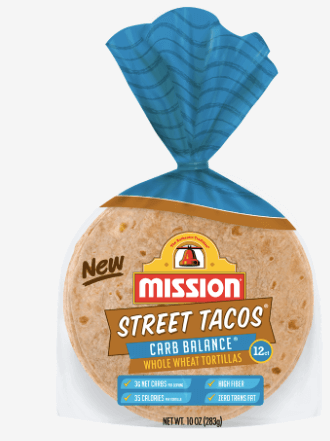 Mission Carb Balance Street Taco Tortillas. They're 35 calories a piece and taste just like the full-calorie version. Enough said, right? Really, when it comes to wraps and tortillas check the nutrition facts! I always thought they were lower in calorie than bread, because how could something that thin have more calories than bread? Right? Maybe you've never been fooled by that, but I have. Each tortilla also has 3 grams of protein and 15 grams of fiber.