Chopping and slicing vegetables for my Mushroom and Egg Sandwich feels like a quiet morning meditation.
Ingredients for Melissa's Mushroom and Egg Sandwich (makes 2):
4 Baby Bella Mushrooms
1 Clove of Garlic
1 Shallot
4 Basil Leaves*
Basil Pesto Grapeseed Oil by Wildtree (less than a Tbsp.)
1 pat of butter
Eggs*
9 Grain and Seed Bread by Wholesome Harvest
Omega Light Butter by Smart Balance
Salt & Pepper to Taste
Gruyere – Freshly shredded and just a light sprinkling of.
*A note on Basil Leaves. I've found it best to grow my own basil plant. Otherwise, it's $4 for a small package of basil that I will either not use fast enough or will not have purchased the full amount that I need for any given recipe (it's $4 for not much!). It's far easier to grow basil than it is to grow a money tree.
*A note on the eggs. For my egg sandwich, I use 1 large egg plus 1 large egg white. For my guy's, 2 large eggs plus one egg white. We have different needs.
Instructions: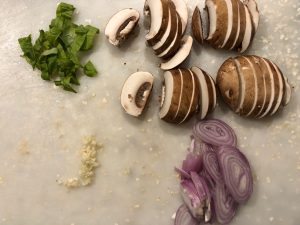 Slice basil, mushrooms, and shallots. Mince garlic.
Heat up slightly less than 1 Tbsp. of Basil Pesto Grapeseed Oil over medium heat.
Add garlic and let cook until soft (about 1 minute). It's a good idea to stir it a bit and keep an eye on it.
Add shallots. I like to let those soften for a minute or two.
Then add mushrooms. Season with salt and pepper. Reduce heat a bit if you're like me and tend to get things cooking before whisking eggs.
Heat up the pan for the eggs low-medium. I recommend using the same size pan as you would for making omelets. Put in a pat of butter and coat the pan. I can only sacrifice so much deliciousness for the sake of good health and reduced calories. I use real unsalted butter for this.
Whisk eggs. To my eggs, I add 1 tsp. of water, a dash of salt, and a couple grinds of pepper.
Pour eggs into pan and let set as if making an omelet.
Put bread into the toaster (1 slice per sandwich).
Once the eggs set, flip or fold them just as you would for an omelet. After you've folded the eggs into an omelet shape, cut in half so that the eggs will fit onto the bread.
Put the egg on the bread and top with the garlic-shallot-mushroom mixture. Then sprinkle on the fresh basil and a bit of cheese.
Enjoy!

The Nutrition Information provided to the left was calculated using MyFitnessPal. Also, it's based on using 1 large egg and 1 large egg white. I am not a dietitian, nutrition expert, or scientist of any kind.