She survived breast cancer and was a Gen X contestant on Survivor Millennials VS. Gen X; and now, Sunday Burquest has written a book on having the power to survive. Grit Girl: Power to Survive Empowered by Grace has its official release on May 7th.
Grit Girl is a book written to women. More specifically, it's for any woman who has gone through something hard and needs to find her grit. Sunday wrote it with the intent that any woman, regardless of faith, could feel comfortable reading it. Yet, she doesn't hide that faith is where her grit comes from.
A few things to know about Sunday Burquest:
She's a wife, a mother, and an inspirational speaker. A native to Minnesota, Sunday's done segments on Twin Cities Live in the past. Given that and her background in preaching, she is comfortable in front of both the camera and an audience.
In April 2012, Sunday was diagnosed with breast cancer. A year before that she almost lost her husband. He had to have emergency open-heart surgery.
Prior to her breast cancer diagnosis, she had never experienced depression, or anxiety. "I just didn't get it before. My thought would be like get over it. That's not how it works."
At her first chemotherapy appointment, she started sobbing and couldn't stop. The nurse looked over and told her that the sobbing was normal and that she was experiencing an anxiety attack. "I don't have those," Sunday said. The nurse was right.
In her Ponderosa video from Survivor, Sunday shared:
"Coming out here and doing this game was a way for me to get me back. Because I am a take-the-world-by-the-horns person. I can be adventurous and spontaneous… I got me back…I came with the residual effects of the breast cancer emotionally and I feel like I want to put a big sign on myself when I get back and just say that I am back."
Sunday prepped for Survivor by strength training, re-watching seasons of the show, and doing tons of games and puzzles.
"You go out for casting in December. I found out in March that I was going," said Sunday. "I was working out every day. I wanted to be thinner. The weakest link gets voted off. What I had to do was decide that being strong was more important than being thin."
She and her family have been major Survivor fans since its first season. She would say to her family, "Someday, I'm going to be on this show." Her sons joked that she wouldn't make it one day on the show. She made it 35 days.
Q: How would you have recovered yourself without Survivor?
A: There's a lot of different hard things I've been through leading up to the cancer. It [Survivor] maybe helped me get over the hump. It's not like if Survivor didn't come along, I'd still be depressed and sitting in my recliner. Family is where I would have gotten past that depression. I think Survivor maybe accelerated it. It's a more outward visual of what happened on the inside.
Q: What advice do you have for people on how to get through similar life challenges?
A:
Talk about it. Talk about what you're going through and be honest with your family – whoever those people are in your inner circle. Tell them, "Hey, I'm struggling and this is how I feel." Explain to people, "I feel like this and that's why I'm not going with you to that." People around you can start to think it's them.
Be willing to ask for help.
Give yourself a break in the sense that you're not a horrible person, because you're dealing with depression.
Talk to God, your inner circle, and positively to yourself.
Q: What do you think defines a woman as stylish?
A: When they're classy in dress and in how they speak. I think when I see women that are caring and that are more apt to lift up other women (and not be catty) just caring all the way around.
There's certain people who seem full of grace and class and there's people who are full of sass. More class and less sass. To me that's indicative of getting a little bit more mature and caring.
I care that people see me as a kind person, as someone they can talk to.
When she speaks with young, college-aged women, she advises them to be an Audrey Hepburn in a Kim Kardashian world.
"The prettiest girls are the ones who smile, not shake their boom-boom," said Sunday with a laugh, partly quoting Audrey Hepburn. "Shake your boom-boom, just don't do it for attention."
Q: Are you changed from Survivor?
A: It's hard, because it really messes with your head. It's not necessarily all positive changes. A lot of people [from Survivor] have a really hard time transitioning back into regular life. Sometimes, because Survivor becomes their identity. I am good with who I am.
Sunday's oldest son was getting married soon after her return from the island. There were exciting festivities to work on planning. Her focus has always been on her family, so Survivor never became her identity.
Women often struggle with comparing themselves to others. With Survivor, "you add another layer of comparisons. It can feel like high school. Who gets the most attention? My edit wasn't great. I wasn't in a lot of the episodes, because I don't cause a lot of drama. Dealing with the disappointment of that is difficult. On the island – I loved how I looked. My hair was awesome. That was chemo curls. Everyone would say that I have the best island hair."
On the positive side, "I have all these Survivor friends. I got to do something a lot of people want to do and will never do." Survivor has also opened huge doors for Sunday. "It gave me enough of a hook."
Q: Any parting thoughts or advice for women in their 40s?
A: Sunday explained that she has a closed GRIT Girl Facebook group. Her focus this past week was on grace. "You can look at grace from a lot of different angles." One angle she focused on was extending grace to yourself. Sunday gave a situation similar to: If a friend was struggling with her husband, her kids, her work, and was dealing with some hard life stuff, and vented about it to you, what would you do?
"You would never say to her get over it. You would never say that to your friend. Why do we say that to ourselves?," said Sunday. "Send the grace to your own self. Be kind to yourself. Give yourself a break. Average is okay. Three cheers for average. Extend the grace to yourself that you would give to other people. You would tell your friend, 'I will give you a hug.'"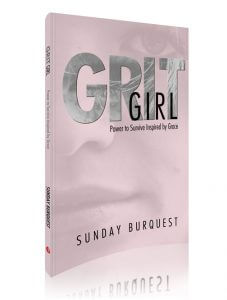 Burquest will be having a book signing and release party at Evereve – The Shoppes at Arbor Lakes in Maple Grove, MN on May 8th from 6 – 8 p.m. Light appetizers will be served and there will be a 15% store discount.
Connect with Sunday on Facebook, Instagram, and Twitter.
Enjoy this story? Please share it with others.