Can I live without my mocha in the morning? I suppose. My mornings seem so much better with it though. How about yours?
My husband and I have decided to recommit ourselves to paying off all of our debts as fast as possible. That means an end to my daily morning drive to my favorite coffee shop for my medium white mocha, extra shot of espresso, coconut milk, no whip, no bean. Instead, I'm making them at home. It's something I've tried before and failed to stick with.
This time, I've improved my recipe. Now, skipping the coffee shop doesn't feel like a sacrifice. It feels like a time-saver. Bonus: carbon footprint reduction, calorie reduction, and more consistent drink quality.
I'm excited to share my updated recipe with you, but first…
The Delicious DIY Mocha Money-Saving Numbers:
$54.95 for the tools needed to make a mocha (or latte if you prefer). More shopping details are provided below.
Cost of Ingredients:
The cost of ground espresso is about $0.41 per 2 Tablespoons (the amount needed for DIY Dairy-Free Mochas).
A half gallon of So Delicious Coconut Milk at my local Hy-Vee today(1/23/20) retails at $3.99. Following Delicious DIY Mocha recipe makes the cost of coconut milk per mocha $0.25.
Also at Hy-Vee, an eleven ounce bag of Ghirardelli White Chocolate Baking Chips today (1/23/20) retails at $3.99. Following the recipe, the cost of white chocolate per mocha is $0.29.
1/8 of a teaspoon of McCormick's Small Batch  Extra Rich Pure Vanilla Extract $0.10.
Grand Total of Ingredients Used Per Day: $1.05
The price of buying the same mocha from my nearest, favorite coffee shop is $6.19. Driving to the coffee shop and back costs $0.86 (using today's fuel prices). That brings my daily coffee expense to $7.05 plus buying my husband a large coffee for $2.95. After all, if I'm treating myself. What does your daily coffee habit cost you?
It took just 9.16 morning mochas to cover the cost of the equipment. To arrive at that number I subtracted the daily cost ingredients from the cost of going out for coffee ($7.05 – 1.05 = $6). Then, I divided the cost of equipment $54.95 by the $6. 
DIY Mocha (or Latte) Tools: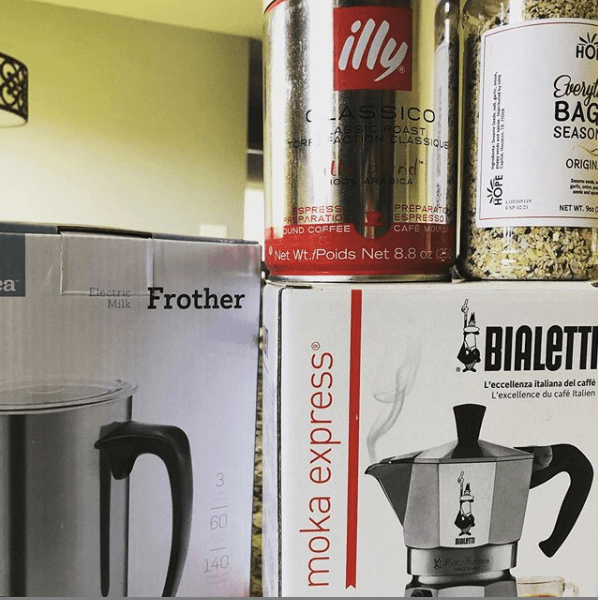 All products featured on 40 Fit N' Stylish are independently selected. When you buy something through our retail links,we may earn revenue that helps us grow our small business.
The Original Bialetti Moka Express – 3 Cup Stovetop Coffee Maker with Safety Valve – brews 4.4 ounces, $29.95,  (https://amzn.to/2vQ8zUx). On 1/23/20, it was on sale for $24.35. I'm not sure how long that price will last… Note: By 3 cup it means 3 espresso cups, not 3 full cups of coffee. 
Epica Automatic Electric Milk Frother and Heater Carafe, $25, (https://amzn.to/2Lz5Ut4). I am in awe of how beautiful the foam is, what little time it takes, and the minimal effort required! Pour milk in frother to the proper fill line, press button. Wait maybe a minute.
Note: The Everything Bagel Seasoning pictured is for other kitchen experiments that I'm looking forward to doing soon. I don't think I'd ever sprinkle that on top of cappuccino foam. 
Making a DIY Dairy-Free Mocha the 40 Fit N' Stylish Way:
Put 1.5 servings of Ghirardelli White Chocolate Baking Chips in a small saucepan (about 50 chips). Heat at a medium-low setting. Add 1/8 teaspoon of vanilla. Stir. Then add 1/2 cup of unsweetened coconut milk.
Put water and espresso into the Moka per the instructions and heat it on a burner set to medium.
Stir the milk and white (or milk, or dark) chocolate chips until the chips have melted. It's okay if it simmers a bit.
Once the Moka pot begins to steam, pull the saucepan from the burner. The chips should be completely melted into the milk by this time.
Pour the milk mixture into the frother. Press the froth button. It only takes a minute to froth.
Once the Moka pot stops steaming, pour the espresso from it into a mug.Extra cozy ritual points if you find a favorite mug.
Pour the milk from the frother into your mug using a tablespoon to hold back the foam, over the espresso.
Top with foam.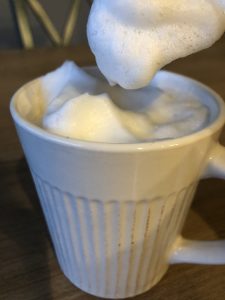 Gustare (Enjoy)!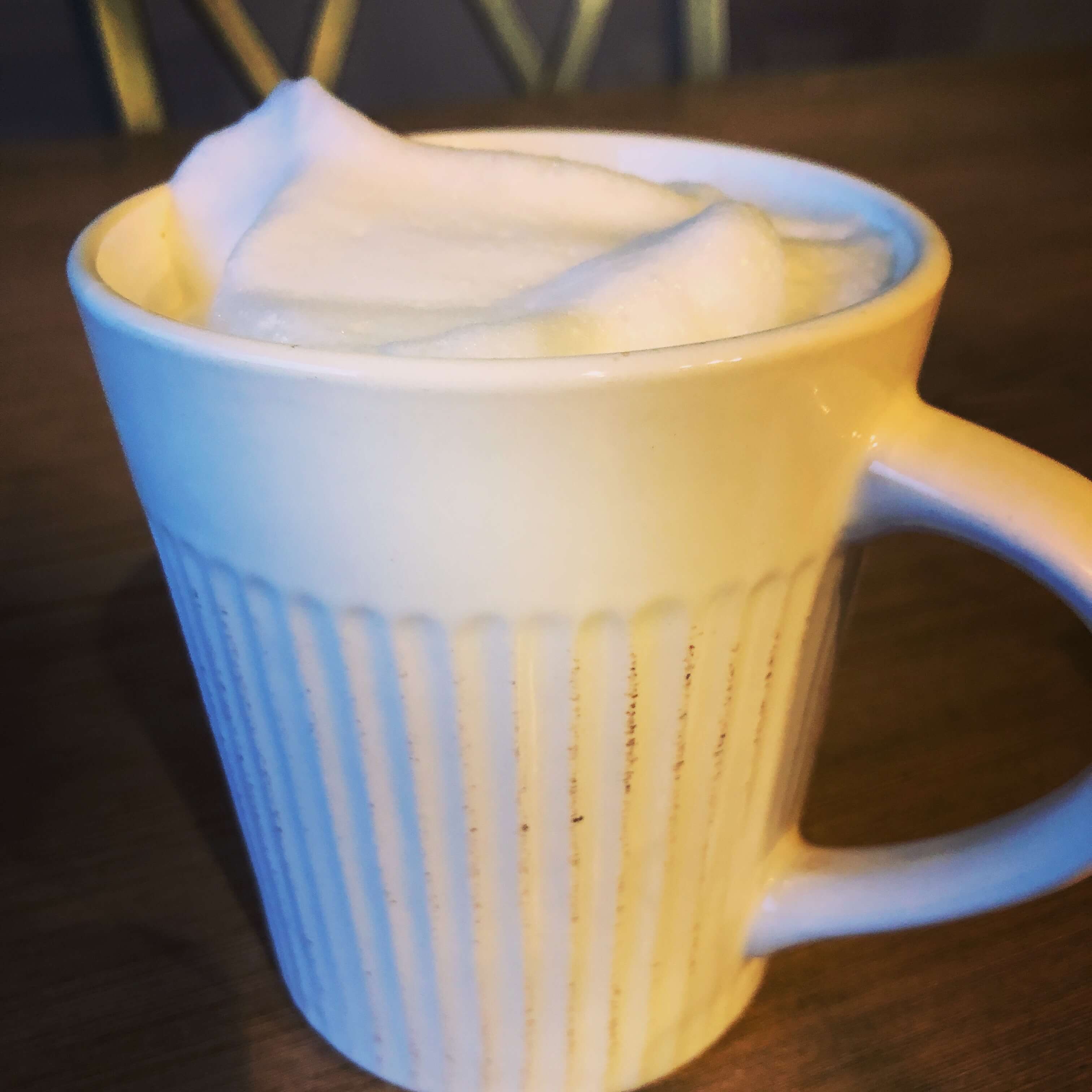 Barista's Note: Reduce clean-up by using a metal tablespoon to portion out the chips and stir them into the white chocolate. Use the mug you plan to use as your spoon rest between stirs. 
One More Reason to DIY Your Morning Mocha Routine:
If you follow the 40 Fit N' Stylish recipe, you'll save about 100 calories per mocha. According to MyFitnessPal, the Delicious DIY Mocha recipe using white chocolate chips is 147 calories. For a similar mocha (using coconut milk, no whipped cream) from a chain large enough to have data comes in at around 250 calories.
Ingredient Notes:
I now use Starbucks Espresso Ground Coffee, $13.37 for a 12 ounce package. (https://amzn.to/37pxqQ0)
While I have been using Ghirardelli Classic White Premium Baking Chips in my Delicious DIY Mocha, I plan to try Ghirardelli's Premium White Chocolate Sauce soon. (https://amzn.to/2RmXZQc)
For more foodie, fitness, and frugal-ish ideas, follow me on Instagram at @melissa_j_peterson or Pinterest at Melissa Peterson.
Revised 1/23/20.