I haven't been able to find my favorite dairy free pancake mix at the store lately, so I decided to come up with my own recipe. And it is yummy!
When I make breakfast on weekdays, I'm often making it just for me. Instead of having pancake batter sit in the fridge overnight, I prefer to make a single, dairy free pancake. Not only is this recipe dairy free, it's also pretty darn healthy overall.
Melissa's Dairy Free Protein Pancake (Single Serving)
Ingredients: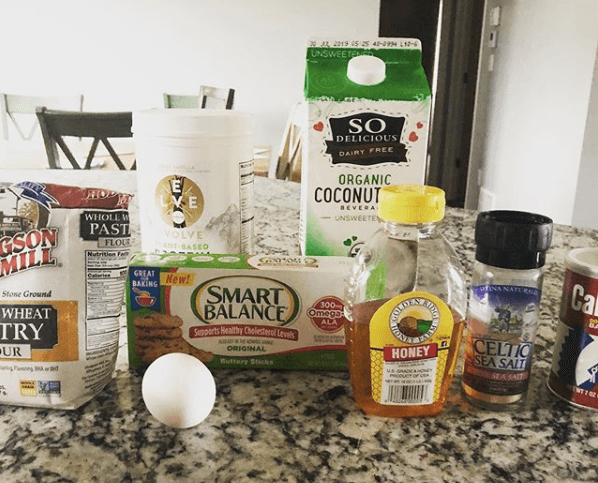 1/8 cup whole wheat pastry flour
1/2 scoop of Ideal Vanilla Plant Based Protein Powder. I used Evolve. If a protein powder isn't plant based, it will have dairy in it. If you're trying to maintain a dairy free diet, make sure to look for plant based or vegan protein powders.
1 tsp. baking powder
A dash of Celtic Sea Salt
1 tsp. organic honey (local if available)
1/3 cup unsweetened coconut milk. I use So Delicious.
1 egg white
3/4 Tbsp. of non-dairy butter melted. I use Smart Balance.

Instructions:
Put the ingredients in a bowl and stir. Really, I do whisk together all dry ingredients (whole wheat pastry flour, vanilla plant protein powder, baking powder, and salt) and all wet ingredients (honey, coconut milk, egg white, and butter) separately. Then I make a little well in my bowl of dry ingredients and pour the wet ones in.

Melissa's Dairy Free Protein Pancake Nutrition




Before the toppings, the pancake comes in at just 212 calories. It has 11 grams of protein – yay! There's only 1 gram of fiber in it though. That's where my topping choice helps!

I top mine with Smart Balance light butter, blueberries, strawberries, and Swerve Zero Calorie Confectioners Sugar. A half cup of blueberries and a handful (around 6) strawberries has about 3 grams of fiber, giving the breakfast 4 grams of fiber total.Note: Nutritional information is an estimate and I am not a professional dietitian. 

Is there a dairy free recipe you love? Or something delish you wish you knew how to make sans dairy? I'd love to know! You can connect with me on Instagram @40FitNStylish, on Twitter @MelissaMcNallan, and on Facebook @40FitNStylish.