There are places I do not resent overspending calories at, because the food and the experience are worth each and every bit of sweat needed to burn them up. If it's not amazing, what's the point? I might as well eat a tomato and call it a day.
Most of the time delicious isn't good enough. My daily food needs to be nutritious, because I have fitness goals. Yet, some food experience are worth not overthinking. I'm okay with overdrafting on my calorie count for them. They're that extraordinary.
Calorie Splurging in Rochester, MN
300 First (300 1st Ave NW)
Chris and I have spent many Monday Night Date Nights at 300 First. The place is both upscale and cozy. Our favorite server is Amber, because she's amazing, kind, and fun to talk with. Whenever I'm craving comfort, I want to go there. My favorite dish is the Cordon Bleu Wellington. It features grilled chicken wrapped with honey smoked ham, Swiss cheese, volute, wrapped in French puff pastry; and, is served with garlic mashed potatoes and choice of vegetable side dish. I skip the mashed potatoes and get double asparagus. Even when I'm treating myself and not focused on being good, I do try to make some positive choices.
Terza Ristorante (30 3rd St SE)
Again, this has been one of our Monday Night Date Night favorites. The music and ambiance exude class. Chris's favorite is Chicken Parmesan. Mine is the homemade Gnocchi with Red Sauce and Chicken.
Bleu Duck Kitchen (14 4th St. SW)
Chris and I enjoy stopping in for Friday Collider Happy Hours at Bleu Duck Kitchen now and then. The craft cocktails are delish. The last time I was in, I drank a Hemingway Daiquiri that wasn't blended and wasn't too sweet. I thought I hated daiquiris. Not so.
I recommend giving their chef tasting and wine pairing a try. The chef asks about any food allergies, what sorts of things you enjoy, where you think your culinary limits are, etc. Then, he crafts 6 courses. We both tried lamb for the first time and loved it. Portions were small enough to allow us to enjoy each and every course. We had just enough room for dessert and thank goodness for that.
Deliciousness in Spring Valley
Four Daughters Vineyard & Winery (78757 Minnesota 16, Spring Valley, MN)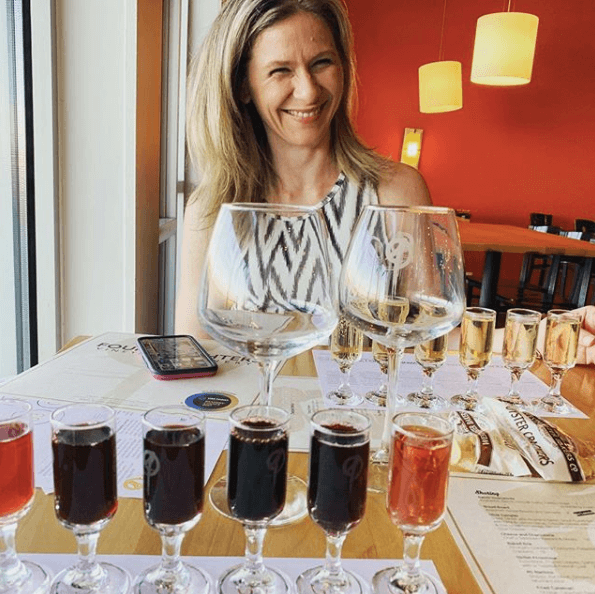 It's worth the calories and the short road-trip it takes to get from Rochester to Spring Valley for the wines, the meals, and the desserts at Four Daughters. During our first Monday Night Date Night there, we decided that it was the just right place to get married and hold a reception at.
Effing Good Eats on the Road
Firefly Grill (1810 Avenue of Mid-America Effingham, IL)
It was getting close to dinnertime when we started seeing signs for Effingham, Illinois.
We were on a road trip from Atlanta, Georgia to Rochester, Minnesota. We'd wound our way through the Appalachian Mountains that morning and negotiated Nashville's traffic. I was behind the wheel for both of those parts. Chris became fixated by the name and wanted to eat dinner there. I searched my phone for places to eat in Effingham. Firefly Grill was first on the list. "Eco-conscious New American eatery serving locally sourced fare in a rustic-chic lakeside setting," I read to Chris.
Chris drove us to it. The place was packed, yet our wait was only 15 minutes. Our server was knowledgeable, kind, and made it seem as if she had all the time in the world to answer our questions. We hadn't had lunch, so we started with Fried Ravioli. Neither of us had ever had it before. Yum!  Then, we followed it up with burgers. I had the Mushroom Onion Swiss (portobello mushroom, red onion jam, swiss, served with garlic steak fries). Chris had the All-American (burger sauce, american cheese, jalapenos, lettuce, tomato, onion, pickle).
The place is more than 7 hours from where we live and I'm tempted to find a reason to drive back on through and eat there again.
Elegant Dining in Chicago
Lockwood Restaurant and Bar (17 E. Monroe Street, Chicago, IL)
Located in the Palmer House Hotel, a historic hotel in Chicago's financial and theatre district. We went there for my 40th birthday. At that time (and I believe still) it also has the distinction of being across the street from where Hamilton is performing. In addition to having fantastic steaks (it was my birthday after all), the service is exemplary. When the server overheard Chris and I talking about my birthday, he brought over a glass of champagne with a strawberry on it to wish me a Happy Birthday.
Foodie Nirvana in NYC
Chelsea Market (75 9th Avenue, New York, NY)
It is the place above most all others that makes me miss Manhattan. Foodie heaven is the best way for me to describe it. The place is an indoor food hall. Food Network calls Chelsea Market home. Its studios are located on the upper levels. While there are no studio tours available, when one walks around Chelsea Market it is so easy to understand why Food Network would want to call this place home.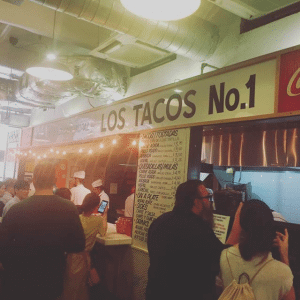 On our first trip to NYC, we ate Carne Asada Tacos at Los Tacos No. 1 in Chelsea Market. Once home, I knew I had to order The Chelsea Market Cookbook, because we were still talking about the tacos. I made them for Chris's birthday. He thought they were even better. Maybe they were, because they were cooked with love for him. 
During our second trip, I enjoyed a fresh crepe at Bar Suzette Creperie and shopped at Chelsea Market Baskets (so many goodies to bring home from there!!!). I've made Tuck Shop's Roasted Brussel Sprouts recipe at home and loved it.
The energy at the market is both vibrant and chill. I can't wait to go back and try something else there.
Blue Smoke (116 East 27th Street and 255 Vesey Street in New York, NY)
When we traveled to New York City with Chris's children, this was by far the most favorite place that we dined at. While I am no expert in Southern Barbecue, I'm pretty sure they served us Southern Barbecue at its finest. It's almost a year later and I remember trying Cornbread Madelines, 5 Pepper Beef Brisket, and Beignets. I'd never tried a beignet before. Oh my gosh. Worth every calorie!
My Favorite Place to Feast in Philly
Bank & Bourbon (1200 Market Street, Philadelphia, PA)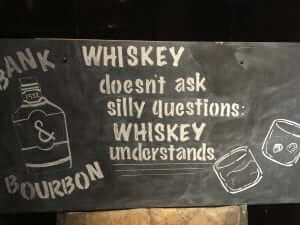 Located in a Loews Hotel, the place is sophisticated and the service is efficient and elegant. It was classy without being intimidating despite the sign.
I'm from a meat and potato family in the midwest. For my family and friends, steak houses were where we ate fancy. Chinese takeout was exotic. Organic wasn't in our vocabulary. Much has changed in my life, so there is a certain level of sophistication that can feel a touch intimidating from time to time. Though that feeling hits me less and less.
I had the Roasted Lancaster Chicken. Chris had a steak. After, we had a Vanilla Doughnut. I don't like doughnuts. This was warm with ice cream melting over the top. I loved it.
If the food isn't splurge-worthy, I'm not splurging. I have in the past. Sometimes, because I'm hungry. Other times, to be polite. I have my goals and if I'm going to spend the calories, they need to be well-spent ones.
What are your favorite, splurge-worthy eats? I'd love to hear about them! Please send and email to melissa@40fitnstylish.com.
This post is part of a series inspired by Eat Pray Love.