Warning: these chocolate chip cookies are soft, gooey, and full of the yums.
Some families debate politics. Other families have lengthy arguments over religion, or philosophy. My family both celebrates and debates the chocolate chip cookie. Should a cookie be hard, or soft? Crispy, or chewy? I'm partial to soft and gooey, unless I have a cup of coffee to dip them into.
How much better for you should a baked good be?
I've baked healthy versions of baked sweets that have had all the flavor of once wet cardboard dried in the sun. They've been gluten free, dairy free, almost sugar free, and totally flavor free. Other recipes that I've followed have turned out delish. I've noticed that the latter tend to have ingredients like honey and whole wheat flour in them.
As I create recipes, I've decided that perfect is too unpleasant. If I can slip in some good stuff and eliminate some of the not-so-good, fantastic! It's progress, right? Learning to play with my food and recipes is helping me make healthier choices. How about you?
One thing I'm aiming to eliminate as much as possible from my diet is dairy. That's why the only dairy in this recipe comes from the bittersweet chocolate chips. It's milk fat and it is the fourth ingredient on the list out of six. Not perfect, but not bad either.
These cookies were so tasty and close to the real thing that teens ate way more than just one.
Better for You Chocolate Chip Cookies Nutrition Info:

The recipe that I modified yielded cookies that were each 135 calories; and, had 8 grams of fat, 5 mg of cholesterol, 105 mg of sodium, 16 grams of carbs, 1 gram of protein and 0% iron.
My Better for You version has more protein, fiber, and iron. They aren't great for you. Cookies are not a health food. They're a sweet indulgence that can be made more healthy.
Better for You Chocolate Chip Cookies Recipe:
Prep Time: 10 minutes. Bake: About 8 minutes per sheet. Cool: 2 minutes. Makes about 3 dozen cookies.
Ingredients:
3 scoops Evolve Ideal Vanilla Plant Protein Powder
1 cup whole wheat pastry flour
1/2 cup all-purpose flour
1 tsp. baking soda
1/2 tsp. sea salt
1/2 cup organic honey
3/4 cup Swerve Brown Sugar Replacement
1 tsp. pure vanilla extract
2 egg whites
3/4 cup Smart Balance Original Buttery Sticks softened
6 ounces Ghirardelli Bittersweet Chocolate Baking Chips (60% Cacao)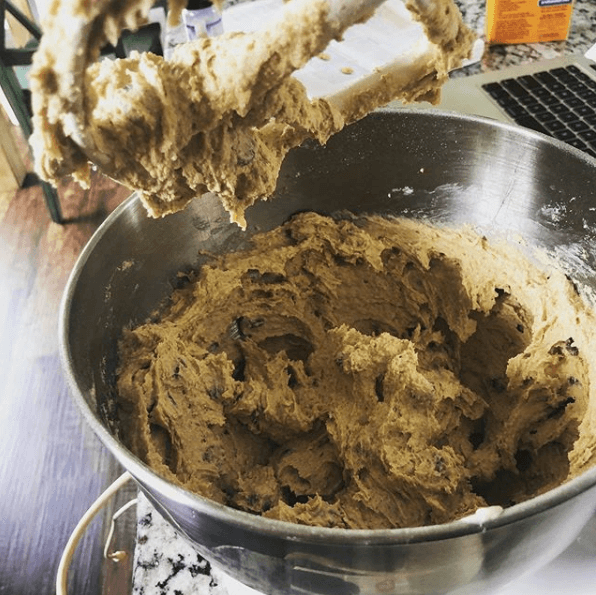 Instructions:
Heat oven to 375 degrees.
Mix dry ingredients (plant protein powder, whole wheat pastry flour, all-purpose flour, baking soda, sea salt).
Stir in organic honey.
With electric mixer on medium speed, stir in brown sugar replacement, vanilla extract, egg whites, and Smart Balance.
Fold in bittersweet chocolate chips.
Drop dough by rounded tablespoonfuls about 2 inches apart onto an un-greased cookie sheet.
Bake about 8 minutes. Let cool for close to 2, then transfer from cookie sheet to a wire rack.
Are you trying to make healthier choices? Figuring out hacks? I'd love to hear about them. Drop me a line at melissa@40fitnstylish.com, or connect with me on Instagram, Facebook, and Twitter.